Bright Summer Salad
by Olivia Cartwright,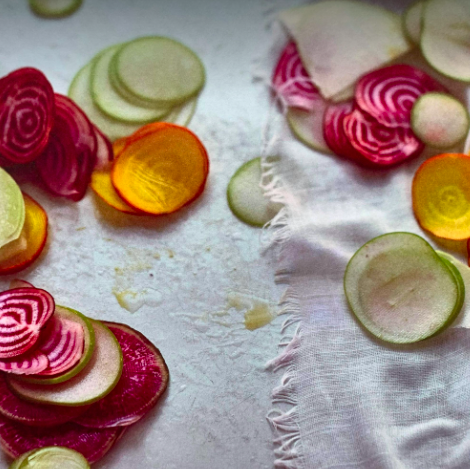 Ingredients:
120g kohlrabi
225g mixed beetroots (regular, golden and candy looks nice)
135g watermelon radish
1 apple
2 tbsp lemon juice
1 tbsp white balsamic vinger
1 tsp honey
salt and pepper
2 tbsp extra virgin olive oil
3 tbsp chopped walnuts
Serve with sourdough bread, and you could add some organic goats cheese if you like
1. Peel the kohlrabi. beets and watermelon radish
2. Shave them all on a mandolin, or cut very very finely with a sharpe knife
3. Do the same with the apple
4. Make a dressing by mixing the lemon juice, honey, vinegar and seasoning with the oil.
5. Spread the vegetables and the apple in a broad, shallow, bowl, dressing them as you go. then scatter the nuts on the top.
6. Serve immediately.
---