Radiance Loves....Comvita Manuka Honey & Blackcurrant Elixir
by Christina Agnew,
With Winter looming we are thinking about boosting our immune systems. A daily organic fresh juice does this brilliantly (try carrot, beetroot, kale, apple and ginger at home), but there are many other excellent natural plant products that can give added support. Right now we are loving two fantastic products from Comvita:
Comvita Manuka Honey & Blackcurrant Elixir is an all-in-one Winter wellness formula that contains the highest quality health-promoting honey, anti oxidants and zinc.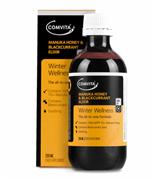 Comvita Olive Leaf Extract with Aloe is a well known natural cold and flu buster. As an added bonus this is on special offer at the moment. Simply enter the code 'aloe13' at checkout when purchasing any other product which is over £4.99 and receive the Olive Leaf Extract for only £5.
---