New juices incoming!
We're excited to share we have 4 new drinks! Meet Coco Greens; Pure Celery (for the hardcore amongst you) and two delicious new mylks - Hazelnut & Almond Mylk and Almond Mylk. Head to our Juices page for more information or book them now in a Build Your Own cleanse.
---
Butternut & Peanut Soup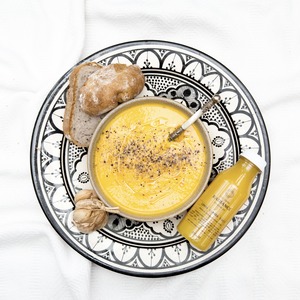 Soup Season is in full swing and we are loving playing around with different recipes and flavour combinations. This Butternut Squash and Peanut soup takes inspiration from a traditional Ghanaian recipe called Groundnut Soup. Click
here
for the recipe!
---
NEXT AVAILABLE START DATE
The next available start date is Friday 9th December. This is due to the unprecedented volumes for our courier, and the impact this is having. We're really sorry for any inconvenience. If you have any questions please get in touch.