Vegan pancakes recipe
by Olivia Cartwright,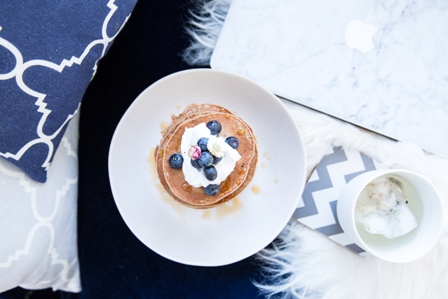 With the mornings becoming darker and colder, breakfast is one of the things worth getting up for! Long lazy brunches with a pot of tea, the paper and pyjamas untill midday are quickly becoming a weekend requirment. In my household pancakes are the king of brunch options, so here you are, our gluten free, dairy free, vegan pancakes. That's your sleepy Sunday morning sorted!
Gluten Free Vegan Pancakes:
Ingredients (makes about 6 small pancakes)
2 tablespoons chia seeds
4 tablespoons water

1/2 cup buckwheat flour (100g)

1 banana

1/2 cup almond or coconut milk (or any other plant-based milk)
1/2 a lemon

1 teaspoon maple syrup
1 teaspoon coconut oil (for frying)
Method:
1. Combine 2 tablespoons of chia seeds with 4 tablespoons of water and leave to sit in the fridge for about of 30 minutes.
2. Zest an entire lemon.
3. Mash the banana in a bowl and then add all the pancake ingredients to your blender. Blitz well until everything is combined. The consistency should be nice and thick!
4. Heat the coconut oil over a medium heat in a non-stick pan. Once the oil has melted, use about a ¼ cup of the mix and pour into the pan. Heat until bubbles form about three quarters of the way cooked through and then flip to cook for another minute or two. Repeat with the rest of the mixture adding more coconut oil when the pan dries out. The mix should make 5-6 small pancakes.
---