In Conversation with Fleur Sladen, founder of Blooming Blends
by Clare Ward,
We've long used flower remedies; from helping manage school exam stress, to aiding a good nights sleep. So discovering Blooming Blends modern elixirs was a joy.
We caught up with Fleur Sladen, founder of Blooming Blends, to talk about the growing interest in the healing power of plants, and her daily rituals for wellbeing.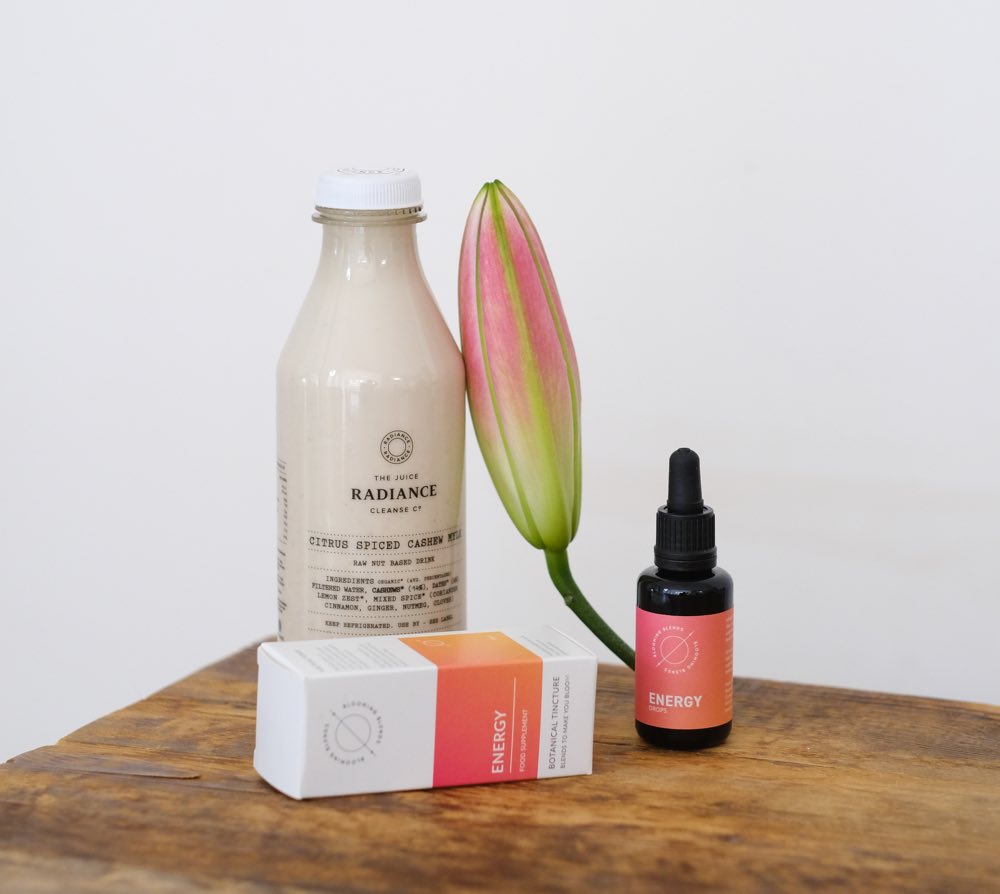 What made you start Blooming Blends?
I started Blooming Blends as I was working long hours working in a kitchen and I wanted to find a natural herbal product to help give me energy, strength, and balance for those moments when I needed it. During my search for the ideal product, I discovered the incredible world of botanical tinctures. I totally fell in love with this traditional way of taking herbs, feeling their immediate benefits and the ease in which you use them. I found that tinctures in the UK were limited, there was little information, they were not very approachable and not readily available for everyone - you had to know what you were looking for. I wanted to change this and show everyone how wonderful tinctures are and to take people back to the roots of how our ancestors maintained their wellbeing. And so Blooming Blends was born.
What impact do you think herbal and flower remedies can have?
The more we learn about the benefits of herbal and flower remedies the better! We have lost our way of natural healing. I think tinctures help reconnect us to the past and how we traditionally took plants and herbs to heal, uplift and balance ourselves. Interestingly, tinctures are herbal teas but on a much, much more potent level. Our modern minds don't question drinking chamomile tea, but if we are offered that in a tincture form we question it as ineffective and hocus pocus. I am on a mission to change this point of view!
You're a veteran of the wellbeing industry having run a successful food delivery service. How do you think it's changed, and do you think there is a growing appreciation of more traditional approaches?
Definitely people are becoming more open to alternative remedies and are looking to the past at how our ancestors looked after their health. A positive impact from covid is that people became more aware of their general wellbeing and with the rise of the internet people can easily find the information they need and there are many fantastic brands out there.
What makes Blooming Blends special?
We are special because we really love and believe in our tinctures and are passionate about spreading the word of how amazing herbs are. Our tinctures are carefully crafted so that all the botanicals used in each blend work in synergy together to help support that moment of need. Our extraction process of the botanicals themselves, is also unique. We are able to make our tinctures alcohol-free, while still ensuring that the herbal benefits from each plant and herb is at its highest potency. Our tinctures also taste delicious and are often referred to tasting like 'herbal honey'.
How do you balance the hectic pace of running a business and everyday life?
Often I get it very wrong as I'm terrible with time management, but I try to be outside as much as possible, either in my garden or walking my dogs to help clear my head and take me away from being in 'office-mode'. I find it really important to step away from the world of emails, instagram and budget worries and think about family, life and food!
How do you look after yourself and maintain your wellbeing?
I enjoy being as active as possible. My mother told me that you're at your best when you enter your forties...you're never going to look or feel as young or be as fit! And I took this advice quite seriously! I'm 47 now, so I have spent my forties trying to be as healthy as possible. Food is really important and the quality of the produce. I also have quite a rigorous skin care routine and obviously I'm obsessed with my tinctures but I also take other supplements such as curcumin for anti-inflammatory and a good probiotic. I'm mad about Hello Day and The Herbtender products. And lastly Reformer pilates. It's a fabulous support for making all your limbs strong (really important that your legs are strong) and it tries to keep my pot belly under control!
We loved that Fleur's approach to maintaining her health seems really practical and achievable. We have also tried some of the tinctures and they have been really helpful. For more information on the range visit bloomingblends.co.uk.
---