Beetroot Brownies
by Olivia Cartwright,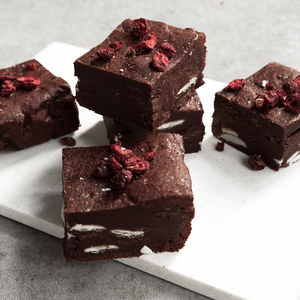 These beetroot brownies are a great gluten free, dairy free and refined sugar free treat for all the family to enjoy, guilt free! If you've given up chocolate for lent, then why not swap out the raw cacao for carob?
Ingredients
2 beetroot
2 eggs room temperature
1 tsp vanilla extract
1/2 tsp almond extract
1/3 cup maple syrup
1/8 cup coconut oil melted
1/4 cup unsweetened cocoa powder
2 tbsp coconut flour
1 cup almond flour
1 tsp baking soda
1/4 tsp salt
2 tbsp dark chocolate chips for the top
Instructions

Preheat the oven to 220 degrees. Wash and remove stems of the beetroot. Place them on tin foil, wrap tightly and place on a baking sheet.

Bake at 220 degrees for 45 minutes. Remove from the oven, unwrap the tin foil and cool for 20 minutes. Carefully peel the skin from the beetroot and slice into quarters. (this can be done in advance)

Preheat the oven to 175 degrees. Prepare a 8x8 square baking dish with a small amount of coconut oil.

Place beetroot with all ingredients (except chocolate chips) in a food processor or blender. Blend on high until beetroot is broken down and all ingredients are fully blended. Transfer the batter to the prepared baking pan.

Bake for 22-25 minutes until a toothpick can be inserted clean into the center.
Remove from the oven, add chocolate chips to the top of the brownies and cool 30 minutes in the pan before slicing into 16 bars.
---