Spicy Peanut & Butternut Squash Soup
by Olivia Cartwright,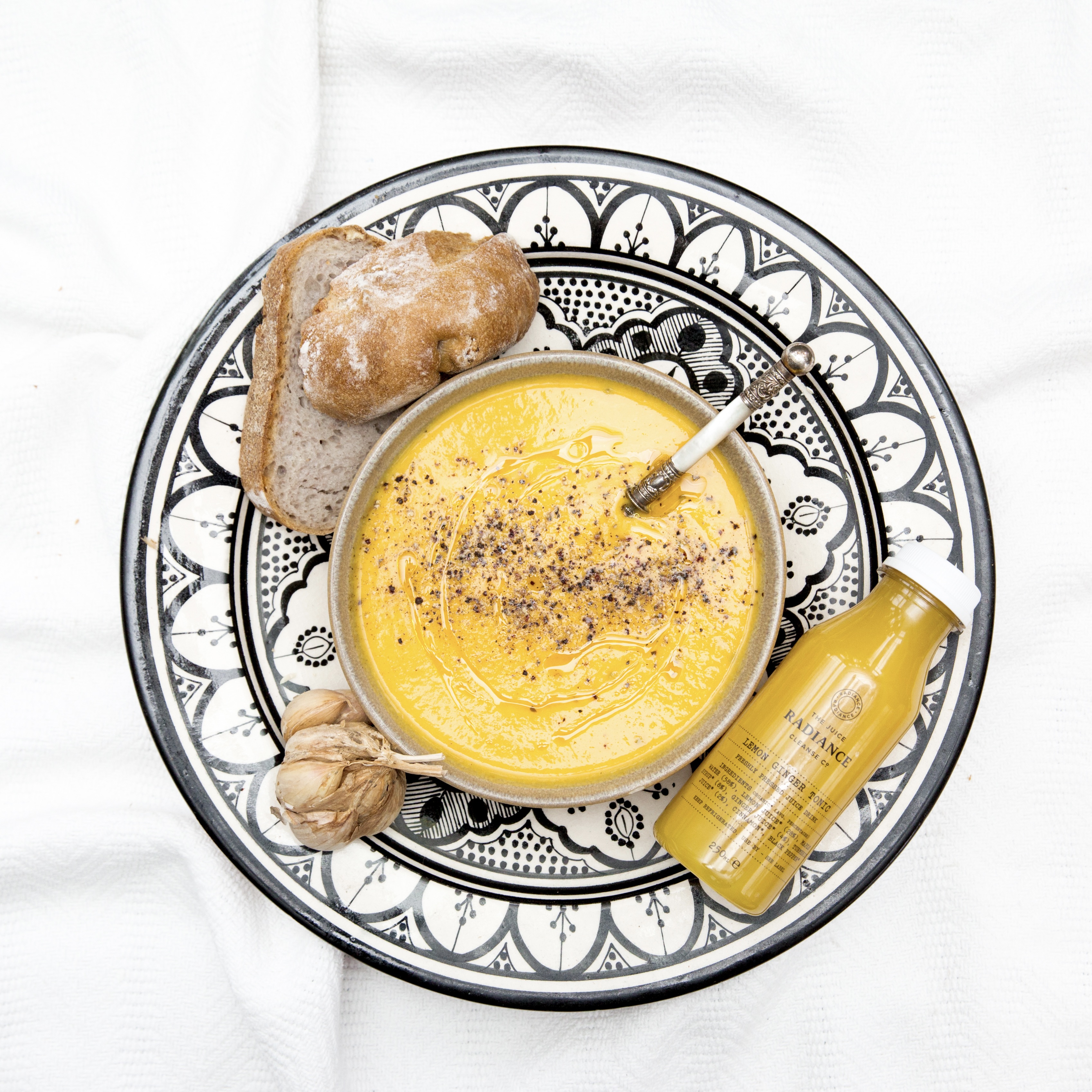 Ingredients
2 Butternut Squash
1 Large Bulb of Garlic
6 Spring Onions
5cm Knob of Ginger
1 Scotch Bonnet Chilli
500ml Vegetable Stock
125g Smooth Peanut Butter
6 Tbsp Coconut Yoghurt
Handful of Roasted Peanuts
Handful of Fresh Coriander
Salt
Pepper
Olive Oil
Method
This recipe serves 4.
Heat your oven to 200°C.
Cut your squashes in half and scoop out the seeds. Cut the flesh into large wedges 3cm thick.
Pop onto a baking tray and drizzle your squash with olive oil, salt and pepper. Bake for 30 mins until beginning to soften.

Meanwhile, wrap your bulb of garlic in foil and pop this on the lowest shelf of your oven to roast for 40 mins.

Chop your spring onions and ginger into large chunks. Slice your scotch bonnet in half and scoop out the seeds.

After the 30 mins has elapsed, remove your tray from the oven and add your spring onions, 1/2 your scotch bonnet and ginger. Return to the oven for another 20 mins, by which time your veg should be nice and caramelised.

When your garlic is cool enough to handle, squeeze the flesh out of its skin by pressing a knife on top. Discard the skin.
Tip all your veg into a large saucepan and add your vegetable stock, roasted garlic pulp, peanut butter and 4 tbsp of your coconut yoghurt. Whizz to a smooth consistency with a stick blender.
Season your soup to taste - it might need a little salt and pepper.
Garnish with a drizzle of coconut yoghurt, chopped peanuts and coriander. Serve and enjoy!
---