Whole Roasted Cauliflower
by Olivia Cartwright,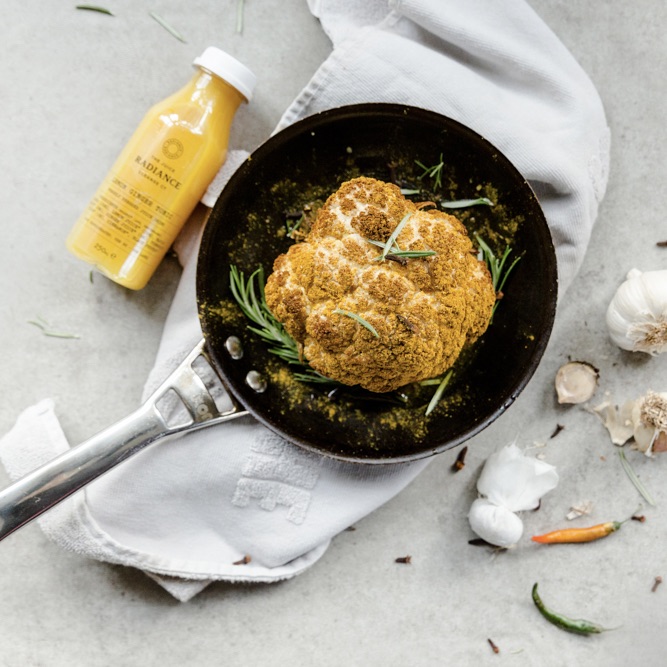 Ingredients
1 cauliflower head
3 garlic cloves
1 Tbsp ground turmeric powder
1/2 tsp black pepper
1 Tbsp ginger grated
1 Lemon
1 tsp salt
60 ml olive oil
Instructions
Preheat the oven to 400ºF/200ºC and line a baking sheet with foil.
Clean the leaves and remove the stem of the cauliflower. Make sure to keep the florets intact.
Finely chop the garlic gloves and mix them with the turmeric powder, salt and olive oil.
Pour the oil mixture all over the cauliflower – underside included. Do this over the baking sheet, so you don't waste any of the flavors.
Chef's note: It's good to start by pouring some of the oil seasoning on the underside of the cauliflower and shaking it lightly to encourage it to drip down into the core of the cauliflower, between the florets. Then turn it over and baste the top.
Brush the mixture all over – make sure to cover all the little nooks. Add a bit more oil if needed to help distribute the mixture all over the cauliflower.
Place the cauliflower in the middle of the prepared sheet, florets upwards, and bake for around 1hr15* (though this will vary depending on the exact size of the cauliflower head).
You'll need to place a small dish of water in the bottom of the oven to help the cauliflower steam as it cooks. Baste the cauliflower with the oil/spice mixture several times during the cooking for extra flavor. Once baked, slice, and serve.
---