Roasted Chickpea Salad
by Olivia Cartwright,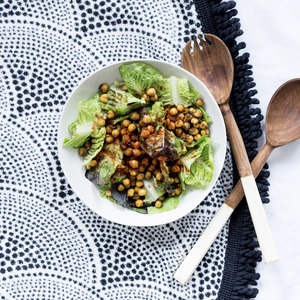 Ingredients:
For the Roasted Chickpeas:
2 cups chickpeas (canned or cooked from dry)
2 tablespoons olive oil
1 teaspoon ground cumin
1/2 teaspoon smoked paprika
1/2 teaspoon garlic powder
Salt and pepper to taste
For the Salad:
Mixed salad greens (such as spinach, arugula, or lettuce)
1 cucumber, sliced
1 red bell pepper, diced
1/4 red onion, thinly sliced
1/4 cup chopped fresh herbs (parsley, cilantro, or mint)
For the Creamy Tahini Dressing:
1/4 cup tahini
2 tablespoons lemon juice
2 tablespoons water
1 clove garlic, minced
1 teaspoon maple syrup or agave
Salt and pepper to taste
Instructions:
Preheat the oven to 400°F (200°C).

In a bowl, toss the chickpeas with olive oil, ground cumin, smoked paprika, garlic powder, salt, and pepper until well coated.

Spread the seasoned chickpeas on a baking sheet in a single layer. Roast in the preheated oven for about 20-25 minutes or until they are crispy and golden.

While the chickpeas are roasting, prepare the Creamy Tahini Dressing. In a small bowl, whisk together tahini, lemon juice, water, minced garlic, maple syrup, salt, and pepper until smooth and creamy.

In a large salad bowl, arrange the mixed salad greens, sliced cucumber, diced red bell pepper, and thinly sliced red onion.

Once the roasted chickpeas are ready, let them cool slightly.

Drizzle the Creamy Tahini Dressing over the salad ingredients.

Add the roasted chickpeas on top of the salad.

Sprinkle chopped fresh herbs over the salad for an extra burst of flavour.

Toss the salad gently to combine all the ingredients.

Serve immediately and enjoy this wholesome and satisfying roasted chickpea salad with a creamy tahini twist!
---