The Summer Cleanse is Back
by Olivia Cartwright,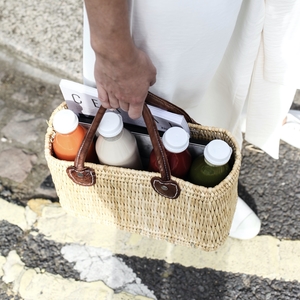 Hope is in the air! With summer set to ascend upon us and life is accelerating again, things are about to have a big shakeup! Summer has had a slow start this year, with what has felt like weeks of rain and gloom. As if obeying the laws of pathetic fallacy the weather is also predicted to improve shortly. It seems only fitting to bring back our ever-popular Summer Cleanse in time to mark the change of the season.
Light, refreshing and above all delicious, it's exactly what we need when temperatures soar. We look forward to it all year, so join us and make sure your health and immunity are at peak strength.

This programme features light and refreshing recipes, but is kept substantial by the inclusion of one of our signature nut milks. Your day will start with an all time Radiance favourite - Young Love; this summer lemonade alternative features the very best organic, virgin coconut water money can buy, alongside refreshing raspberry, lime and mint. Our zesty Simnel Milk when drunk ice cold on a hot day can truly only be described as nourishing liquid ice cream.
The other juices included in this programme give an excellent variety of ingredients and nutrients, making the most of what the season has to offer. This cleanse really is a delight to complete, and is suitable for all cleansers.
Available in 1, 3 and 5 Day Programmes - the Summer Cleanse is available to book now.
---