Juicing for pregnancy
by Christina Agnew,
Juices are a great, quick way to get essential nutrients into your body at any time of life. However they are especially valuable around pregnancy, when the body's nutritional and hydration needs increase. While you should not do a juice cleanse during pregnancy or if you are breast feeding, you can do one to help prepare your body for pregnancy and also as part of your recovery.
Midi Fairgrieve, a nutritional therapist and fertility expert, says: "Planning for pregnancy is possibly the first and most important step you can take towards getting your body, diet and lifestyle into shape. Freshly made organic juices are a perfect way to boost your overall health and detoxifty in preparation for conception; or as a way of adding additional nutrients to your diet once pregnant. Juices were the foundation of the diet I followed to overcome infertility and I subsequently carried on juicing throughout my pregnancy and beyond!"

Radiance co-founder Christina Agnew says: "I had a daily green vegetable juice throughout my pregnancy and I'm certain that it made all the difference to my energy levels. Once I had finished breast feeding and taken some additional time to recuperate, I felt ready to do a cleanse to help get my body back to being strong and lean. My normal Greens Cleanse would probably have been too much for me at that time, so I went for a Build Your Own so that I could include plenty of greens but also high anti oxidant fruits and a nut milk for protein.
A simple pregnancy juice
For many pregnant women, there are some days (particularly mornings!) when you just can't face eating anything. If this happens, drinking a fresh juice is the good way to boost your nutritional intake. The recipe below contains ginger to help with nausea and some greens to avoid spiking your blood sugar levels too much.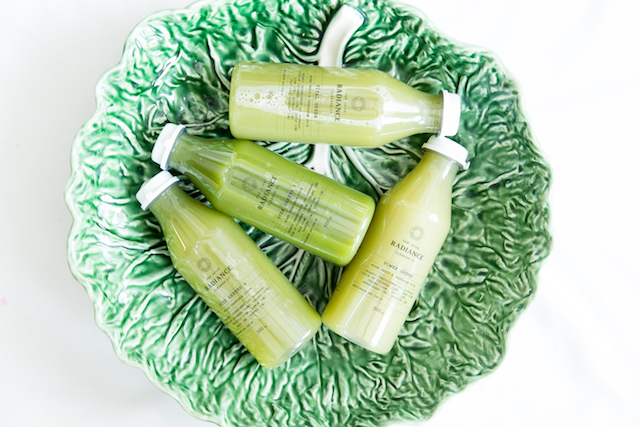 Apple, Celery, Fennel and Ginger Juice (serves 1)
1 medium apple
2 large sticks celery
1/2 fennel bulb
1cm root ginger, peeled or scrubbed
Cut the ingredients into small pieces and then feed through your juicer. Stir together and drink immediately.
---