Cauliflower steak with olive and caper salsa
by Olivia Cartwright,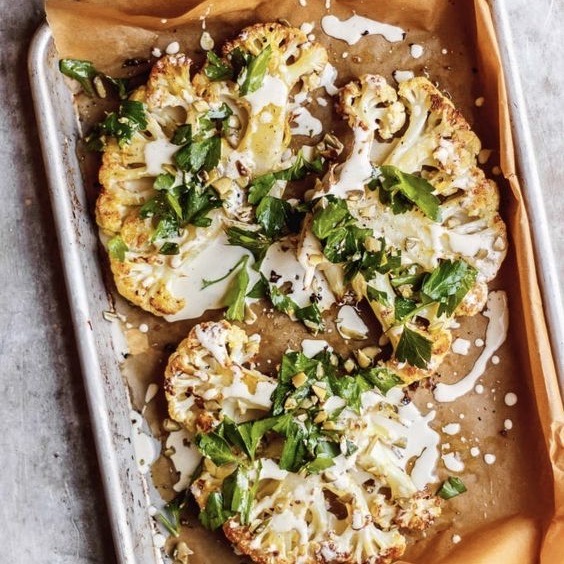 Ingredients
1 (1.5 kg) cauliflower, medium head
3 tablespoons olive oil
For the olive and caper salsa
60 g chilli stuffed olives
1 tablespoon baby capers, drained
1/2 teaspoon red chilli flakes
1 tablespoon fresh parsley, chopped finely
60 ml extra virgin olive oil
To finish
flaky salt, to taste
black pepper, freshly cracked
fresh parsley, chopped
Instructions
Preheat oven to 160°C. Drizzle a large metal baking tray with a tablespoon of olive oil.
Place the cauliflower on a chopping board, resting on the stalk. Holding the head gently, slice the cauliflower into 5-6 thick slices (each about 1 inch wide).
Place the cauliflower slices gently on the prepared tray. Drizzle the top with remaining olive oil.
Roast in the pre-heated oven for 30 minutes.
Increase oven temperature to 200°C (if your oven has a grill setting, turn it on). Roast for a further 15-20 minutes at this higher temperature till the cauliflower is starting to char and brown nicely. Remove from the oven and set aside.
Place all ingredients for the salsa in a small glass jar. Mix well.
Spoon prepared salsa over the cauliflower steaks. Sprinkle with a pinch of sea salt flakes, freshly ground black pepper and chopped parsley.
Serve immediately.
---