Chocolate mint coconut slice from Polly Noble
by Clare Ward,
The whole team loves to try different raw recipes and when I saw this one on Polly Noble's newsletter I knew I had to test it out. I thought a birthday was the perfect excuse. The team loved it so much that I wanted to share it, with Polly's kind permission.
Polly is renowned in the raw food world and is an inspiration. Her website is full of recipe ideas to keep you healthy. The picture below is not quite how mine turned out (I was missing the spirulina when I did mine) so I thought I'd include her picture as it would inspire you more! Happy creating!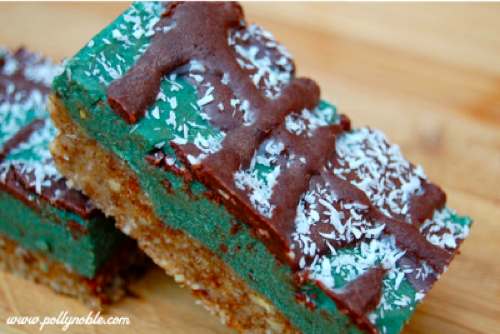 Raw Peppermint Coconut Slice
Base:
2 cups pecans
1/3 cup desiccated coconut
Pinch salt
4 tbl coconut oil
Place the nuts, salt and coconut in the food processor and whizz to a flour consistency. Add the coconut oil and mix to combine. Turn out the mixture into a cake tin lined with cling film or plastic wrap so removal is easy. Place in the fridge to set.
Filling:
1 cup dates
1/4 cup water
Combine the dates and water in the food processor until a paste forms.
1 cup coconut milk
1/2 tsp peppermint extract
1/4 tsp vanilla powder
1 tsp spirulina, chlorella or green powder
Add the coconut milk, peppermint extract and vanilla. I used a teaspoon of spirulina to colour it as I wanted a green cake! Any green powder can be used and the amount up to you but beware that some powders taste stronger than others. Pour the filling onto the base ensuring an even finish and place back in the fridge for 3-6hours.
Topping:
1/3 cup coconut oil
2 tbl cacao powder
2 tbl maple syrup
1/2 tsp stevia
Place all ingredients in a mini-blender and combine. Once the filling is set (2-3hours), using a jug, pour the chocolate over the filling in whatever design you like and sprinkle with coconut/cacao nibs/goji berries – your choice!
For the original article on Polly's site please click here.
---