Interview with Primrose Matheson
by Layla Brice,
We love raw food at Radiance and have been huge fans of Primrose's products for a while. So when she got in touch after trying our juices at a Silver Lining's Mini Retreat, we knew we had to do something to share our love for her completely natural and wholesome foods.
Here we talk about the journey that led her to developing the products and the important hot topic of waste reduction on our planet.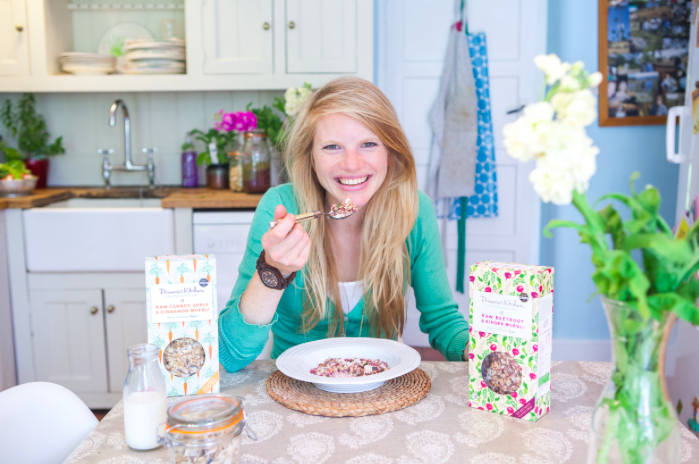 We absolutely love your products and the ethos behind the brand. What was it gave you the motivation to start up Primrose Kitchen?
As with any business out there, PK started with a need. It was a personal one. I had chronic fatigue and ME during my teens and radically changed my diet and lifestyle during this time. I then went on to study naturopathy and homeopathy in London and worked part time in health food shops. I was frustrated by the offering in the breakfast aisle as this was my favourite meal of the day and I wanted that easy to assemble meal but with more balance and nutrition. For me that is about getting more fresh fruit and vegetables into your diet as that is something we all struggle with. So after a few months of experiments beetroot muesli was born which is 22% fresh organic beetroot and the rest of the range has developed from there. I also wanted a nutritious cereal that could be eaten at any time of day not just for breakfast with nothing to feel guilty about.
Selecting the right organic ingredients for our juices is key to ensuring they taste as delicious and fresh as possible! How do you go about sourcing the right ingredients for your products?
I am passionate about using as much British produce as possible as we are trying to not only source the highest quality ingredients but also keep our carbon footprint to a minimum.
Obviously I don't have the luxury of this with nuts and seeds but we have one supplier for this who has their own farms and great organic standards on their ingredients.
We get our oats from a family run traditional Scottish Mill that still uses its original medieval looking mill to press the oats and they are gluten free and organic. We source apple from Kent and our oranges and lemons come from independent farms in Spain and our processed by us within 48 hours of delivery. Our vegetables ( beetroot, carrot, kale and courgette) come from organic independent growers in Devon who we are really happy to be supporting and who grow the mot incredible tasting vegetables!
Sourcing great ingredients obviously takes time but we never stop looking to improve on the quality of our products and luckily growers of wonderful british ingredients are increasing all the time.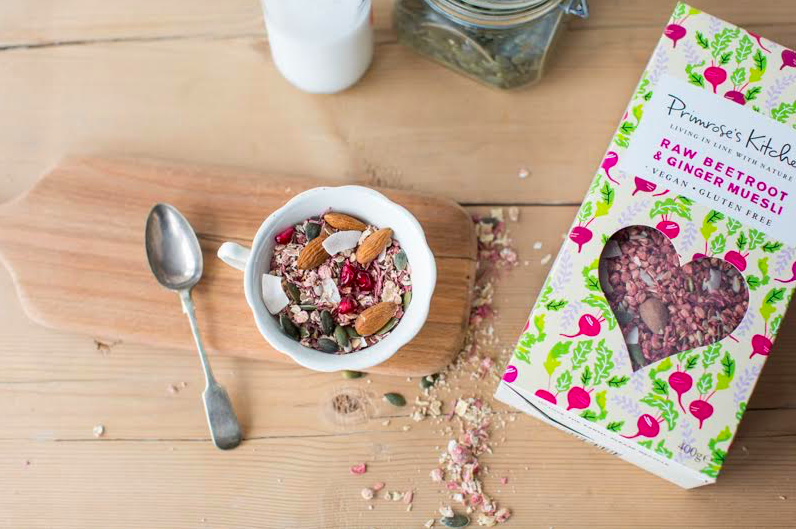 Like you, we are continuously looking at ways to reduce the impact of waste on our planet. Tell us more about the charity 'Surfers Against Sewage' and why they are close to your heart?
I have known about surfers against sewage since I was young growing up on Guernsey where the local team was very active and am very inspired that the work they do to protect the sea. Being a complete mermaid myself come June as I live 5 minutes from the sea in Dorset I want to make sure we can all continue to enjoy our seas and shoreline in the future so anything I can do to support them and raise awareness for their work I always will.
What exciting things can we look forward to seeing from Primrose Kitchen this year?
We have some NPD coming out, we will be continuing to develop our online plastic free pantry for all your organic whole food needs free of plastic. Lots of collaborations and hopefully a long weekend off for me to enjoy my garden and get planting ready for summer abundance!
---