Radiance Refresh
by Holly Wood,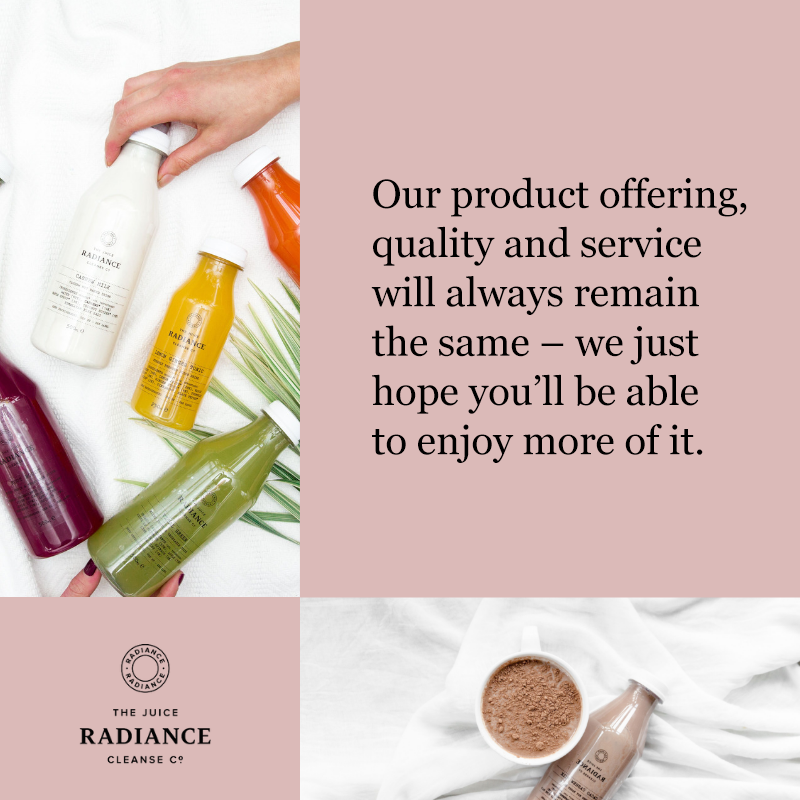 We're thrilled to announce positive changes that we've made here at Radiance in response to our 2019 client feedback questionnaire.
Two of the key things you told us would make a real difference to you were increased delivery options and being rewarded for being loyal clients to Radiance.
Well over 50% of you expressed a preference for a Monday start date. So, we are thrilled to now be able to offer this delivery option not just to London but to the rest of the UK too. From 1st July 2019, we will be offering a nationwide fresh Monday morning service with DPD.
We also listened to feedback that 73% of you felt that cleansing would be beneficial either monthly or quarterly, and that price was the main reason behind not being able to do so. We're strong believers that our pricing needs to be aligned to our value to you, not based on our costs. We are truly passionate about our clients getting the maximum benefits from juicing as regularly as possible – and we learnt long ago to listen and trust our clients.
As a result, we've made the brave and bold decision to lower our pricing so you're able to enjoy Radiance juices more regularly to get the most benefit and the best value from our service.
Alongside this, we've also been working on our client loyalty scheme. Our clients are the reason Radiance is where it is today, and we want to reward you! We know life can be busy, and codes and emails can be tricky to keep track of. So now we have one simple system, where for clients booking within three months of each cleanse (quarterly cleansing), you'll receive an automatic 10% loyalty discount.
With 10 years of experience behind us, and your feedback to validate it – we know you love the product, so we haven't and won't ever change anything here. We want to reassure you that our product offering, quality and service will always remain the same – we just hope you'll be able to enjoy more of it.
---