Radiance Recommends - Kitchen edition
by Olivia Cartwright,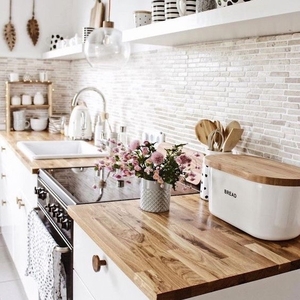 They say health is 70% nutrition so what we eat day to day and what comes out of our kitchen is of the utmost importance. It may not sound that glamorous but these are our favourite household tools that help us maintain a healthy lifestyle with minimum effort. Why make life more difficult than it needs to be?
It's no secret that when something is made effortless you are more likely to keep it up. In the interest of making those resolutions stick beyond January these are our household life hacks we like to keep at the very front of the kitchen counter.
1. Vitamix - the Rolls Roys of blenders, this thing will really elevate your smoothie game! It really is an amazing device, you can make soups, nut milks, nut butters the list goes on!
2. Pyrex, AKA glass Tupperwear - Having healthy prepared meals and snacks that you can just reach for when hunger stricks was a gamer changer in my health journey. I like to meal prep on Sunday and Wednesday nights. Life is all about balance so see what works for you.
3. Air Fryer - I have a confession to make. This was originally a gift and lived the first year of it's life in my garage. However, I gave it a chance and will never look back, with only a teaspoon of oil required you can healthify all sorts of things! Or you could just have crispy, healthy, chips every night of the week? Us too.
4. Spiralizer - Admittedly the spiralizer really had its moment a couple of years ago and that has since lost it's momentum a bit. We are petitioning to bring it back. It's just a great way to pack in your five-a-day and occasionally swap out pasta, potato and noodles whilst still enjoying your favourite meals.
5. Coffee Machine - My morning coffee is part of my daily ritual. It's one my greatest pleasures and I loved playing around and learning how to make it exactly as I want it at home. My coffee (oat milk flat white, thanks for asking) gets me set up for the day and prevents me from buying coffee out too!
---