Radiance loves... Flower Power Pizza by the Hemsley Sisters
by Rosie Guest,
The Hemsley Sisters have spruced up your average pizza and given us a healthy alternative. The light healthy cauliflower base is the perfect summer option!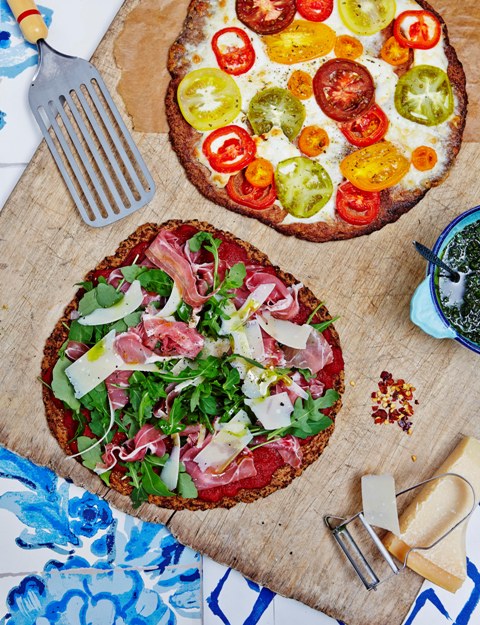 This is not quite as simple as our Socca Pizza, but no pancake skills are required for this. We sneak some cauliflower (the flower!) into the pizza base and then use protein-rich ingredients like almonds, egg white and buckwheat – that's the power part.
If you plan to cover your pizza with lots of protein in the form of meat, we recommend using more ground almonds rather than buckwheat flour for better food combining.
Double the recipe to make two pizzas, then you can freeze one of the pizza bases or freeze a constructed pizza ready to pop in the oven later that week. Stick the leftover egg yolk in a smoothie, bake it on top of your pizza or make a mayo or tartare sauce.
Ingredients - 1 pizza
For the tomato sauce (make this up in advance or use passata if you're in a rush)
3 garlic cloves, or diced
1 tbsp ghee
12 large tomatoes, roughly chopped
2 tsp dried oregano or 1 tbsp fresh oregano leaves
sea salt and black pepper
1 fresh or dried chilli, finely sliced or chopped (optional)
For the pizza base
140g cauliflower (about ¼ of a head without the stalk)
1 egg white, beaten
50g ground almonds
40g buckwheat flour
½ tsp sea salt
½ tsp black pepper
¼ tsp bicarbonate of soda
1. Preheat the oven to fan 190°C/Gas mark 6. Line a baking tray with parchment paper and lightly grease with butter, ghee or coconut oil.
2. Make the tomato sauce: gently heat the ghee in a pan over a medium heat and fry the garlic for 1 minute, then add the chopped tomatoes, oregano, salt and pepper and a little chilli, if you like.
3. Cook the tomatoes down to a thick sauce over a medium heat, lid off, which will take about 15 minutes, then mash the tomatoes with your spatula or blend to a paste if you like things less rustic.
4. While the sauce is cooking, grate the cauliflower into rice-sized pieces using a hand grater or food processor.
5. Put all of the pizza base ingredients into a bowl and mix well with a spoon, or add to the food processor and blend, to form a sticky dough.
6. Spread the dough out with the back of the spoon on the prepared tray, shaping it into a 30 cm-diameter.
7. Bake in the oven for about 20 minutes, flipping it over after 15 minutes to cook the underside.
8. Choose your pizza topping and cook as instrusted.
9 Serve the pizza with a big green salad and drizzle over some Brazil Nut Pesto if you like.
For a parma ham and rocket topping spread the tomato sauce over the base of the pizza with the back of a spoon. If you've made the sauce in advance and it's cold, rebake the tomato-topped pizza for 5 minutes before adding your toppings. Top with 4 slices of Parma ham torn into small pieces, 2 handfuls of rocket and some Parmesan shavings. Add chilli flakes if you like.
For a tomato and mozzarella topping pull apart 1 medium mozzarella ball into small pieces and arrange over the base of the pizza. Slice 2 handfuls of fresh tomatoes into 1 cm-thick slices (a mixture of colours looks good) and arrange over the pizza. Add chilli flakes, if desired. Bake for 10 –15 minutes until the mozzarella is melted and bubbling.
Source: The Art Of Eating Well by Jasmine and Melissa Hemsley (Ebury Press, £25) Photography by Nick Hopper ©Ebury Press.
---