Meat Free Week recipe inspiration
by Clare Ward,
It's Meat Free Week from the 23rd-29th March and we think it's the perfect opportunity to embrace trying out some new veggie recipes. Whether you're vegetarian or not there are so many amazing recipes to try and vegetarian food has come a long way from the old perceptions of boring brown rice and lentils. It's time to see veggie food for the amazingly colourful and innovative option that it's now become.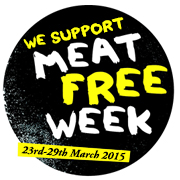 I thought we'd start the week by name checking some of our favourite recipe books and blogs:
David and Luise Frenkiel created one of the most incredibly lust-worthy food blogs around, Green Kitchen Stories, and they now have two cookbooks as well. Great recipes with stunning photography.
Sarah Britton is another food blogger we love with her blog My New Roots. Again her photography is exceptional and we love her ethos. Her cook book is launching in April.
Ella Woodward's blog and book Deliciously Ella are an amazing source of inspiration.
Yotam Ottolenghi is an incredible chef and we love his books, Plenty and Plenty More.
Our friend Julie Montagu, known as 'the Flexi Foodie' just released her first cook book, Superfoods. Lots of inspiration for squeezing in some healthy food into a busy life.
Rose Elliott is a long-term champion of vegetarian cooking - she has many books, but her Best Of Rose Elliott The Ultimate Vegetarian Collection is a great edit of all her recipes.
For raw food inspiration we love Raw Food Real World by Matthew Kenney and Sarma Melngailis, The Unbakery by Megan May and also Tanya Maher's website, Better Raw.
We hope this gives you a bit of inspiration. Stay tuned for some meat free recipes during the week.
---