Breakfast Inspiration from Primrose
by Alexandra Williams,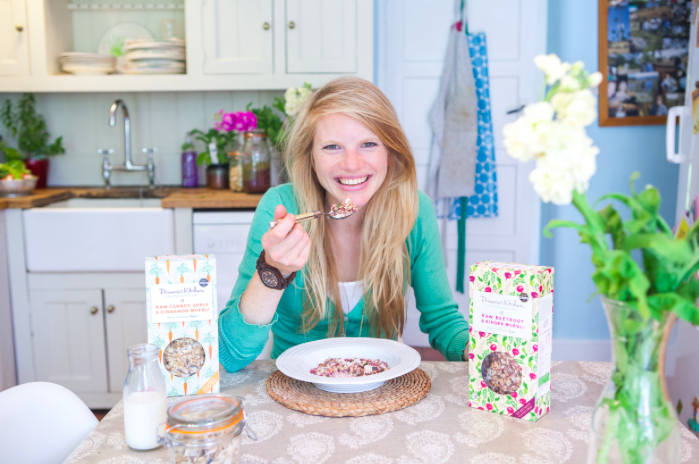 Do you have a quick, go-to breakfast you eat routinely?
My quick go to breakfast is overnight beetroot muesli made with oat or almond milk - I love soft oats and this is both warming and nourishing and keeps my energy levels balanced for the morning. I find beetroot and ginger very energising as well as it increases the circulation.
If you're having breakfast on-the-go - would you recommend any spots to pick up a healthy option, or would you always try to pre prepare something yourself?
I am conscious of food to go packaging so if I know I am going to be on the hoof eating breakfast I tend to just put some overnight oats or overnight muesli with extra chia seeds and 1/4 of a banana, peanut butter and lots of homemade oat or almond milk added in a nutribullet and blend so I can drink it on the move!
I always have a mini pack of granola in the car or a kilner jar of homemade trail mix.
When you have people staying, or are entertaining - what's your choice for feeding a crowd for breakfast or brunch? We always find it's difficult to have '1 thing' that works for everyone!
I do poached eggs on organic sourdough from a local artisan bakery with mashed avocado. Then I lay out a selection of my muesli and granola with Coyo for people to choose. An indulgent Saturday morning in alone - what do you love to make for yourself when you have a little more time.
I love making pancakes when I have the time. I am always playing around with combinations adding things like chestnut flour, oats, spices, honey, sweet potato and sprouted buckwheat flour tougher. They are so wholesome and delicious but still hit the comfort food box.
Do you find your breakfast's vary seasonally?
At this time of year I am making the most of all the fresh fruit on my doorstep. I have great fig trees at home so have been having those with wild blackberries and some local yogurt or kefir with nut butter before I eat any of the above!
I am always experimenting with sourdoughs from new bakeries popping up near me and go through stages of having that with homemade jams for a week and then I won't have it for months.
In the winter I love having broth instead of tea first thing in the morning made from left over free range organic chicken bones. Whilst being nourishing for my gut it helps keep the immune system boosted too.
If you're treating yourself and heading out for brunch, where are your favourite places?
My favourite place for brunch in my local home town of Bridport is Soulshine Cafe. Everything is organic and they do wonderful fresh juices,pancakes, salads and gluten free cakes.
If I am in London I love going to The Tin Shed on all saints road in Portabello and having chilli avo mash and poached eggs on their homemade organic sourdough breakfast
---