Recipe: Simnel Cake
by Holly Wood,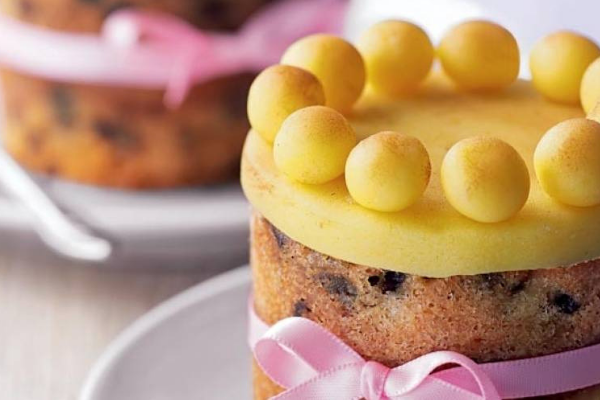 Nothing screams Easter more than Simnel cake. We've found this amazing recipe from Modern Baker: A New Way to Bake by Melissa Sharp and Lindsay Stark, and it couldn't be more perfect. Using unrefined sugar as well as spelt flour and superfoods too, it's Simnel cake but not as you know it.
We'd love to see your culinary creations so make sure to tag us on Instagram in your Simnel cake pictures.
Ingredients:
175g unsalted butter
175g coconut sugar
3 free-range eggs
175g spelt flour
175g sultanas
90g dried cranberries
30g dried goji berries
zest of 1 lemon, grated
2 tsp baking powder
1 tsp mixed spice
½ tsp ground turmeric
½ tsp ground ginger
½ tsp ground cinnamon
½ tsp freshly ground black pepper
pinch of salt
To decorate:
Raw marzipan (see below)
Honey or melted butter (for brushing)
Edible flowers, such as nasturtiums and violets
For the raw Marzipan:
340g ground almonds
3-4 tbsp maple syrup
1 tsp vanilla extract
2-3 drops of almond extract (optional)
Instructions:
Preheat your oven to 170C/325F/Gas 3 and line a 20cm round, deep, loose-bottom cake tin with baking parchment.
Put all the ingredients into a large bowl. With an electric whisk, beat them together until well combined.
Pour the mixture into the prepared tin and smooth the top. Bake for 1 ½-2 hours until a skewer inserted into the middle comes out clean.
Leave the cake to cool in the tin for 10 minutes and then turn out onto a cooling rack.
Make the marzipan. Mix all the marzipan ingredients together to form a dough. Wrap in greaseproof paper and chill until ready to use.
Roll out the dough between two sheets of baking parchment to a thickness of 2-3mm. You don't want to use flour to stop it sticking to the surface, and the paper will also make it easier to pick up.
Once it's cool, use the cake tin as a template to cut out a round disc of raw marzipan.
Brush a little melted butter or honey over the top of the cake and lay the marzipan disc on top.
Use the remaining marzipan to make 11 equal-sized balls to decorate the top of the cake. You can use honey to stick these on as well.
Top the cake with edible flowers such as nasturtiums and violets.
---