Recipe: Gut-friendly organic sauerkraut
by Holly Wood,
Fermenting food is one of the most ancient methods of preservation, and here at Radiance, sauerkraut is one of our favourite fermented foods. Fermented food doesn't just taste amazing, it's also extremely good for your health. During fermentation, live bacteria are produced (probiotics), which are key for restoring the natural balance of bacteria in your gut.
The best sauerkraut is homemade, with raw and organic ingredients to retain as much of the good stuff as possible. It's simple to make (in its most basic form it's simply cabbage and sea salt), but if you haven't got the time, we recommend RAW – they have some lovely flavoured versions.
For this recipe you'll need a sterilised Kilner jar or container for the kraut, a food processor (it can be done manually, but this is much quicker!) and a clean mixing bowl.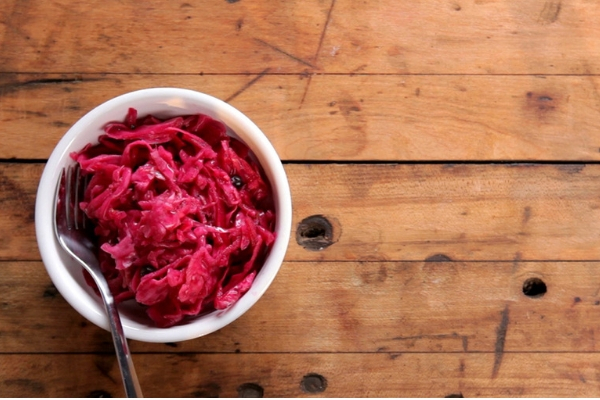 Ingredients:
2kg organic red cabbage
3tbsp pink Himalayan sea salt
1 garlic clove – crushed
1 thumb of ginger – grated
Black pepper
Instructions:
Use the food processor to thinly shred the cabbage.
Add the cabbage and salt to the mixing bowl and massage for 10minutes, or until the cabbage has reduced in size and there is quite a lot of liquid.
Season with black pepper, then add the ginger and garlic.
Pack the kraut and the liquid into your jar. Make sure the liquid covers the kraut completely – if there isn't enough, top up with water. Be careful to leave about 2 inches of space between the kraut and the lid
Leave in the cupboard for 10-14 days. We recommend opening the jar once a day to release air. Use a clean spoon to press down to ensure the cabbage is still covered with the liquid.
Once you're happy with the flavour, transfer to the fridge where your kraut will last for up to 6 weeks.
---