Our Favourite Cookie Recipe
by Olivia Cartwright,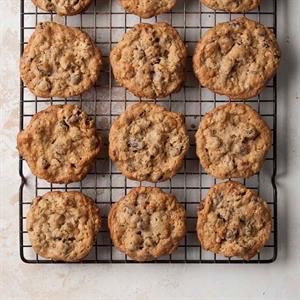 As the weather cools and we are spending more time at home, spending more time in the kitchen too. Now we love a healthy treat as much as the next person but even with the best intentions in the world often the recipes let us down.
In a nationwide clinical study consisting of our friends and family these cookies have been voted the best in the world!
Almond Butter Cookie Recipe:
- 1 cup all natural creamy or chunky almond butter (use your favourite brand)
- 1 cup desiccated coconut
- 1/3 cup maple syrup
- 1 egg
- 1 teaspoon pure vanilla extract
- 1/2 teaspoon baking soda
- 1/2 teaspoon sea salt
- 1 bar dark chocolate bar chopped
- sea salt to top
Preheat oven to 175 degrees. Mix all ingredients together in a mixing bowl. No need to refrigerate, roll into balls and flatten into cookie shapes. Sprinkle with a little sea salt
Bake for 10 mins
Let us know how you get on, we love hearing your feedback. We guarantee these cookies will bake your day!
---