The Winter Cleanse is back
by Olivia Cartwright,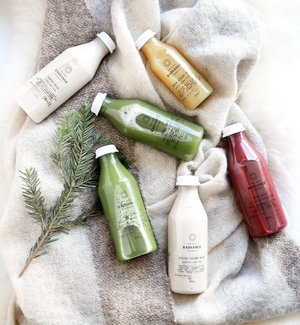 It is that time of year again! The Christmas Party invitations are flooding in, New Year's Eve is looming and we are desperately trying to avoid the office lurgy. Cleansing this time of year has immense benefits. It keeps you bright-eyed bushy-tailed, looking and feeling great all party season long and really helps strengthen your immune system.
However, admittedly, 3 days of cold juices is rather less appealing now it's hit the minus's degrees outside and we would ideally like to exist on a diet of just Yorkshire pudding but it's arguably more beneficial now than ever.
Enter the WINTER CLEANSE. The Winter Cleanse is our seasonal adaptation of our ever-popular Signature Cleanse but with some hero swaps to keep you going. Cleansing can inevitably make you feel a little cold so enter Lemon Ginger Tonic. It's a more concentrated version of our Ginger Lemonade that you can dilute with hot water and drink as a hot toddy throughout the day.
Finally, the jewel in the crown of the Winter Cleanse is the Spiced Cashew Milk. It is a take on our classic Cashew Milk but with Vanilla, Black pepper, Cinnamon, Nutmeg and Cloves. It is like Christmas in a bottle. Top Tip: warm on the hob for a creamy, delicious, warming chai to get you through the day! Can we have 2 a day?
Baby, it's cold outside but inside we are warming our tummies!
---