Recipe: Paleo Waffles
by Holly Wood,
If, like us, you're all pancaked-out, but still looking for something just as delicious for breakfast, then this paleo waffle recipe is just what you need. They taste amazing, whether simply served with your favourite berries, or with coconut whipped cream as an indulging treat.
For this recipe you'll need two mixing bowls, an electric hand mixer (you can do it manually, but it may cause aches!) and a waffle iron. This recipe will make about 4-6 servings but may vary depending on your waffle iron.
Please note: this recipe is not vegan.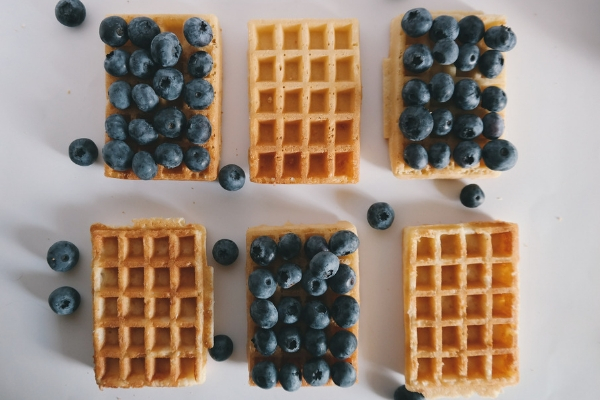 Ingredients:
3 eggs at room temperature (you can separate them for extra fluffiness if you choose)
½ cup organic coconut milk
6 tbsp coconut oil, melted and cooled to almost room temperature
2 tbsp pure maple syrup
1sp pure vanilla extract
1 ¼ cup blanched almond flour
¼ cup tapioca flour
½ tsp baking soda
1 tsp baking powder
½ tsp sea salt
Instructions:
Combine all the dry ingredients in a mixing bowl
In another bowl, whisk together the egg yolks, coconut milk, maple syrup, coconut oil and vanilla
Pour the wet mixture into the dry ingredients and mix by hand until well combined
If separating the eggs, beat the egg whites on high speed with an electric hand mixer until stiff peaks form, then fold egg whites into the batter to combine
Heat your waffle iron and brush it well with coconut oil
Pour batter into the centre of the iron, gently spreading just a bit before closing. Cook waffles according to your waffle iron's instructions
Serve with optional toppings such as berries, but butter, coconut whipped cream and additional maple syrup
---