Recipe: Mint Choc Chip Smoothie
by Clare Ward,
The whole Radiance team loves a smoothie and if we're not starting our day with a green juice then we're often found to be drinking a green smoothie instead. This green smoothie is a bit of a treat with the raw cacao nibs but is still a healthy and balanced way to start the day, or as a snack mid afternoon. We wanted to share it with you as Christina and I have both tried it out on our families and it was resoundingly successful!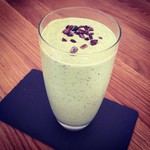 Ingredients:
250ml raw cashew milk (you can also use coconut water or rice milk)
1/2 avocado
large handful spinach
1/2 tsp matcha powder
4 sprigs of mint leaves (stem discarded)
tbsp porridge oats
2 tbsp cacao nibs
Optional extras:
a greens powder (such as Pure XP Synergy, Amazing Grass or Organic Burst Wheatgrass)
1 tsp Manuka honey/maple syrup/agave to sweeten
Method:
Place all the ingredients except for the cacao nibs in a blender and blend on high until the ingredients are a smooth consistency. Add in the cacao nibs and give a final quick blend, reserving some nibs to sprinkle on top if you wish. This should be enough for about a 500ml smoothie, so enough to serve one as breakfast or two as a snack. Enjoy!
---