The Green Life with Leonora Bamford, founder of My Baba
by Clare Ward,
We recently met with Leonora Bamford, the mother of two beautiful children and founder of MyBaba.com a wonderful resource for expectant and existing parents. The website aims to help and inform with lots of news, reviews and expert opinions. As something of an expert herself, we asked Leonora a few quick questions and she was kind enough to give us her thoughts.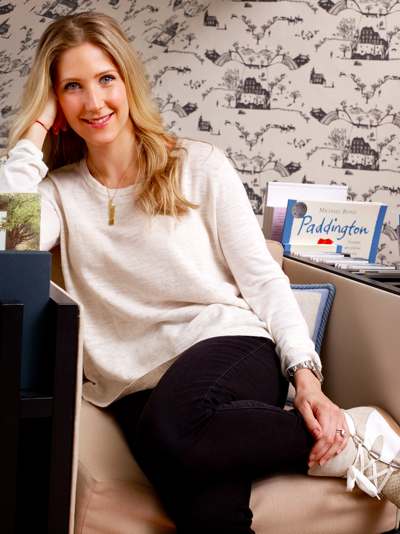 How do you balance running My Baba, being a busy mother with looking after your own health?
Since having children my health and beauty regime has definitely taken a back seat. Now the children are at nursery, I do have more time for my work and I always make time for eating with the children every day. I'm a copious list maker, and if I do this before I go to bed it relaxes me knowing what i've got on the following day. I try to fit in the gym a few times a week, and my kids love stretching with me in front of Postman Pat in the morning.
What is your favourite quick and easy weekday supper?
I'm mad about pasta, and I love making proper Italian tomato and basil sauce with a touch of mozzarella. I fry up an onion, celery, a carrot and some garlic, then throw over a few tins of plum tomatoes, a spoon full of sugar and a slug of both olive oil and balsamic vinegar.

Leave it for as long as you have, and then put if through a mouli, if you don't have one, a blender works too. If you need to get extra veg in there, it's so easy to do and they'll never know!

My fridge is full of fresh fruit and I love making fruit faces on a plate for pudding. Quick and easy! My children love cooking with me and we try to make at least one new quick and easy recipe each week. Annabel Karmel is my hero.

How do you make sure that your children eat healthily?
I'm really lucky because both of my children have always been good eaters. I think it helps that I eat with them, and we often cook together. We're lucky to have a great butcher, fishmonger and green grocer at the bottom of our road so we often set off and make cooking dinner a fun little outing.

They have a good balanced diet, but on the weekend I'm much more relaxed and there are more treats all round.

What are your go-to healthy snacks?
Daylesford Energy Bar if I need a major pick me up, or I love my children's Yo Yo Fruit Roll Ups by Bear Nibbles.

What is your favourite way to work out?
If I have the time, I would do yoga and pilates every day. I love walking with the children and the dogs in the park.

What advice do you give to busy mums who find it hard to make the time to eat well?
Don't be too hard on yourself! If you get the chance, try making one new thing for the family each week. If you have five minutes to spare, (likely!) check out food blogs or apps on your phone. There are so many to choose from and lots of inspiration.

Start the day off well with a good breakfast and try not to eat on the run - easier said than done!
---