Winter Porridge Ideas
by Olivia Cartwright,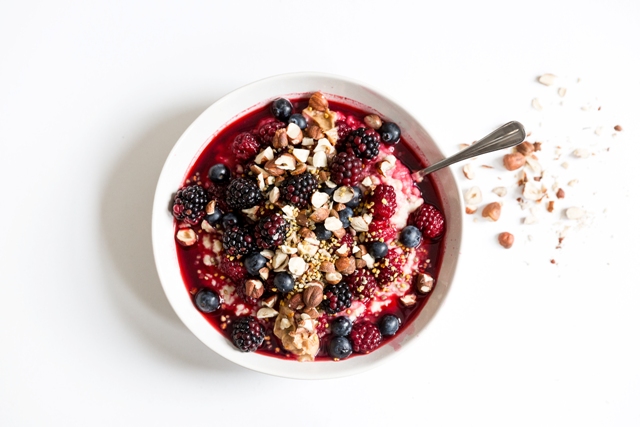 Is your morning porrige feeling a little samey samey? Us too. Try one of these seasonal updates to make your mornings a little more exciting!
Blackerry and Almond Butter
Serves 1
½ cup oats
1 cup nut milk (I use almond)
6 large blackberries (more to serve)
1/4 cup water
Juice of 1 lemon
2 tbs of maple syrup
1 pinch seasalt
Crushed almonds (to serve)
Splash of nut milk (to serve) (I use almond)
Honey/maple syrup/ (to serve)
Add the oats and nut milk to a saucepan, place the saucepan over a high heat & cook the oats until soft. Heat the blackberries, water, lemon juice and maple syrup on the hob to make a syrup. Once the porridge has thickened, turn off the heat and pour into a bowl, pour your blackberry syrup over the top and add a spoonful of almond butter. Serve with extra blackberries, a splash of nut milk, crushed almonds and maple or anything else you fancy.
Nordic Spiced Porridge by 26 Grains
Serves 1
1/2 a cup rolled oats
1/2 a cup of nut milk
1/2 a cup of water
1/8 teaspoon of Cinnamon
1/8 teaspoon of Vanilla
1/8 teaspoon of Ground Cardamon
1/8 teaspoon of Ginger
1/8 teaspoon of Turmeric
1 teaspoon of Flaxseeds
1 teaspoon of Raisins
1 teaspoon of Maca
1 teaspoon of maple syrup
1 shaved apple
A generous dollop of coconut yoghurt
A pinch of salt
Mix the oats, nut milk, water and salt in a saucepan and start to warm it over a medium heat. Then add in all the spices. Keep stirring the porridge and watch it infuse with the spices for five to ten minutes. Once you've got it to the consistency you like, take it off the heat and pour in to a bowl, drizzle with maple syrup and then add the shaved apple, raisins and coconut yoghurt on top.
Savoury Quinoa Porridge from Mind Body Green
Serves 4
1½ cups/250g quinoa
About 1.1 litres vegetable stock
4 tsp/20g ghee
1/3 cup/10g flat-leaf parsley leaves, chopped
3½ oz/100g feta, crumbled into ¾-inch/2-cm chunks
1 tsp olive oil
8 oz/250g baby plum tomatoes
4 cloves garlic, thinly sliced
1/3 cup/10g mint leaves
salt and black pepper
Place the quinoa in a medium saucepan, add the stock and bring to a boil. Turn down the heat to medium and cook gently, uncovered, for about 25 minutes, stirring from time to time, until a porridge-like consistency is formed. You might need to add a bit more stock if the quinoa is sticking to the pan. At the very end, fold in the butter until it melts, followed by the parsley and then the feta, making sure the feta stays in chunks.
While the quinoa is cooking, place a large sauté pan over high heat and add the oil. When the oil is hot, add the tomatoes and cook for about 5 minutes, shaking the pan once or twice so that all sides get some good charred colour. Add the garlic and cook for 30 seconds, so that it turns golden brown without burning. Transfer to a bowl and sprinkle with¼ teaspoon salt and some black pepper. Chop the mint and fold it into the tomatoes just before serving, as it will start to blacken once chopped.
Spoon the warm quinoa porridge into shallow bowls, top with the tomatoes and finish with a drizzle of herb oil if you have some!
Enjoy and tag us in your Instagram pics, we love to see!
---