Interview with Chrissy Sundt
by Layla Brice,

With January just around the corner, we've been catching up with movement guru Chrissy Sundt to help share some inspiration for making, and keeping those New Years resolutions (even when its snowing outside!).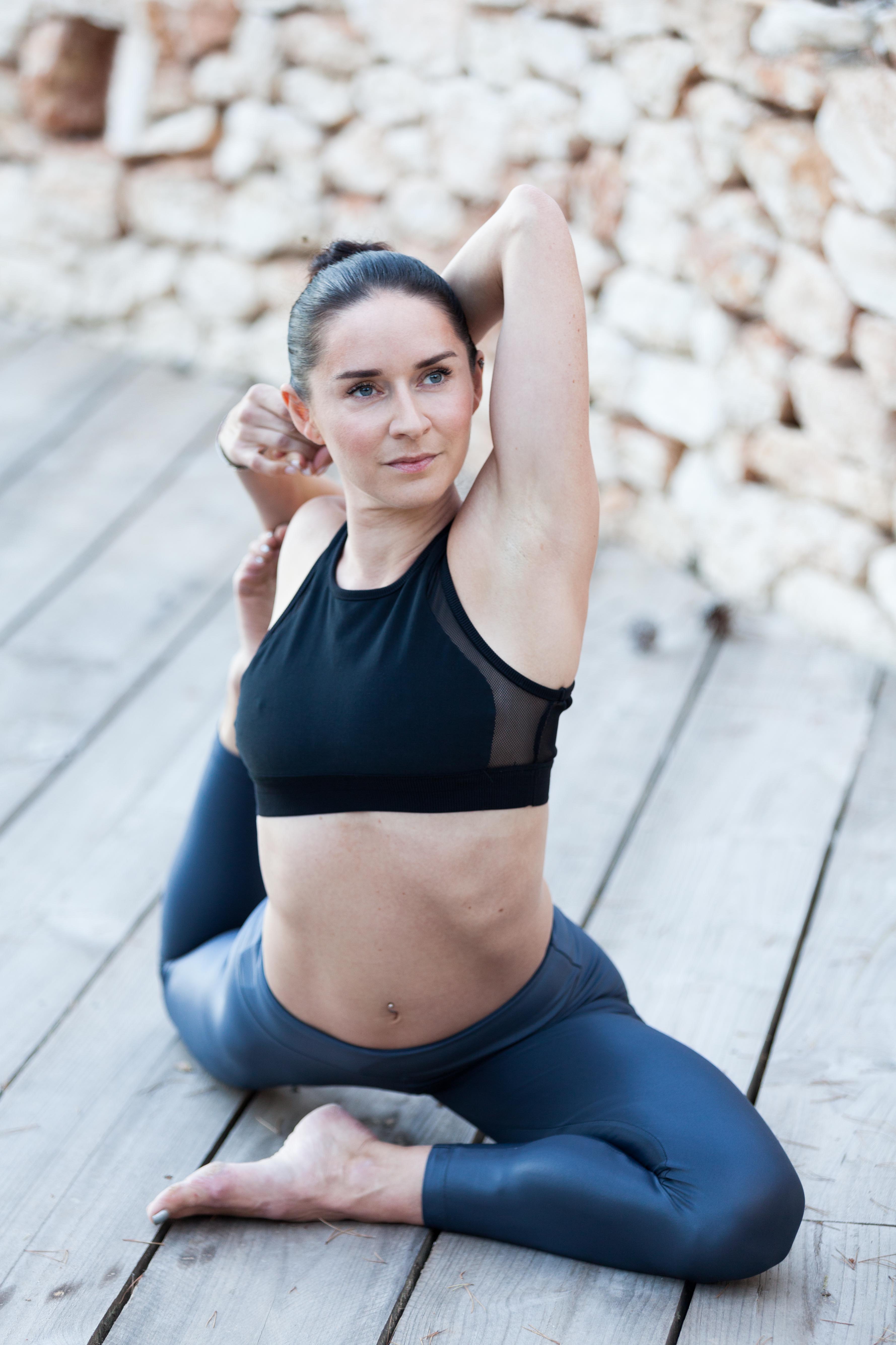 How do you motivate yourself on those colder mornings when you just want to stay in bed?
It's tough when it's cold and dark outside and I am not going to tell you that I 'leap' out of bed with the same energy and enthusiasm that I do on a sunny bright day. That said, getting 8 hours of sleep at regular times really helps and then if I am heading to a workout, I always try to choose a class I love or a really inspirational teacher. My other top tip is to get your workout clothes and all the things you need ready the night before so there is no way you can lose momentum once you are up!
How does your fitness regime change in the colder months and are there any exercises you can recommend?
Taking time to do a longer warm up and warm down is important. If it's cold and the muscles aren't warm you will increase your risk of injury. I also focus a lot on postural work and alignment because we tend to become more hunched and move less in the colder months so doing work to move the spine, open the collar bones and elongate the muscles of the back really helps.
Do you have any top tips on keeping energy levels up when it's cold?
Eating little and often so you stay energized and having healthy snacks or juices handy so you don't just reach for the high carb/sugar snacks and sweets that seem to be everywhere at this time of year. We also forget to stay properly hydrated when it's cold and this will make you feel lethargic and make your digestion feel sluggish.
It always seems so much harder to keep a good work out routine in the party season, how do you find a balance with all the late nights?

I always encourage clients to do 'something' in the day. So even if you don't make it to a class or the gym, try doing a few simple things on the mat at home. So, I would encourage doing some of the following;
'Cat and Cow' on all 4s to move the spine and activate the breathe
High or forearm plank (use the timer on your phone and aim to start with 1 minute and increase each day)
Lying on your back and feet parallel and hip-width apart start with some pelvic tilts, then lift to bridge and do sets of 20 pulses to activate the backs of the legs and keep that hard-won tone
Then lying on your back bringing feet to 'table top' (90 degrees) do some deep abdominal work to your challenge level such as toe taps, lower and lift both legs together, frogs, little presses in and out (have fun with the variations and remember smaller can be more effective!)
Finish with the Cat and Cow on all 4s or seated cross-legged with deep restorative breaths
Just 10 minutes will make all the difference and keep you party dress ready!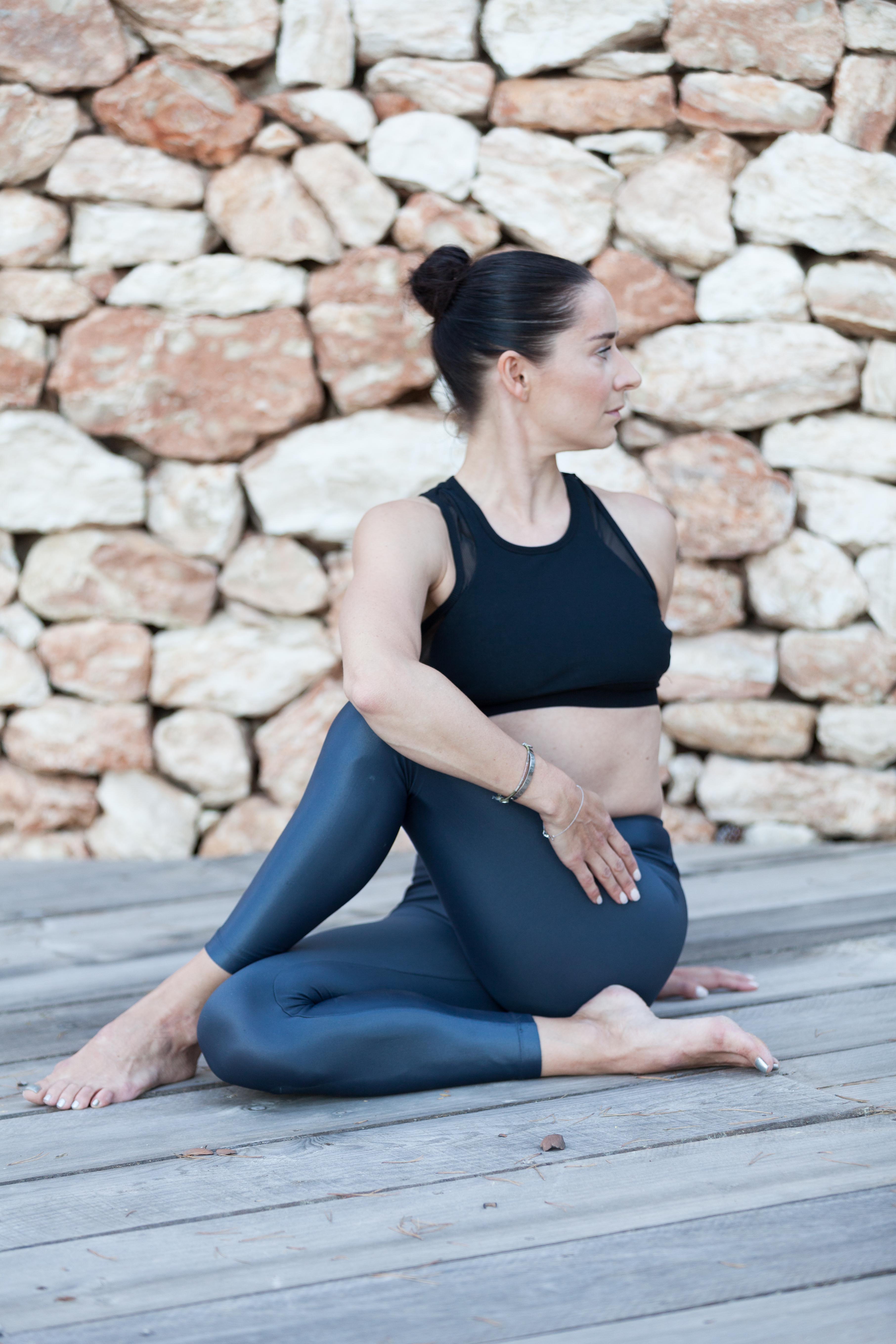 What's the most important thing that you keep in your gym bag?
My water bottle...it comes everywhere with me and I am trying to reduce the amount of plastic bottles I buy as well as keep myself fully hydrated. When I danced I drank nothing like enough water and the difference to my workout, my mood, my digestion is huge when I am hydrated. It sounds simple but it is key.
What are your favourite work out clothes at the moment?
I am so lucky because as a long-term ambassador for Sweaty Betty I receive new pieces from their collection all the time and they are also kind enough to provide all of the apparatus for our retreats. That said I am also a big fan of Varley (the LA/London) brand. I think their prints and cuts are just great….and I can tell you I am very picky….this is my work wear after all and I always say to clients the first step is to feel great in their workout clothes.
What the most exciting thing you've come across lately in your industry? Is there anything we should look out in 2018?
There is so much going on in the wellness world at the moment and the amount of information on training, nutrition, meditation and therapies can be really overwhelming. What I do love is just how many great teachers are now posting 'on-line' content that is really high quality which means people have access to the very best teachers out there and can access all of this from their homes.
I also think that the growth of mindfulness and meditation apps and programs is really great. I love that they are teaching this in schools and workplaces and that people are being given the tools to combat the stress of everyday life. So even if you can't find the time to come on a retreat like ours in the Bahamas or Ibiza, you can retreat from the world for just 10 minutes of your day and experience a really powerful 'reset'.
---