Interview with Zen Maitri
by Olivia Cartwright,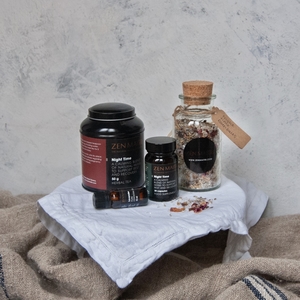 We stumbled upon Zen Maitri on a lazy walk around Chiswick on a sunny autumn afternoon and immediately fell in love with their unique offering. They are essentially a modern-day apothecary with shelves upon shelves of glass jars filled with amazing herbs and tinctures to treat all sorts of ailments and complaints.
Zen Maitri is the real deal, it has the knowledge and science behind them with an amazing team of herbalists, nutritionists, and naturopaths who take a mind, body, and soul approach to health and wellness. As far as we are concerned it is the closest thing you can get to magic, creating healing potions, mixtures, and concoctions.
Here is what they had to say when we spoke to them:
RC: How did you start your business and can you tell us a little more about it?
ZM: Zen Maitri is Chiswick's Natural Health Apothecary and a community hub for herbal medicine, meditation and nutritional advice.
We started our business and opened our Chiswick store with a simple but bold ambition: To make herbal medicine more accessible to the public and become a community hub for health and wellness.
The business is a partnership between two established health and wellness companies: Zen Resort Bali, a holistic wellness resort in Bali, Indonesia, and Maitri Health, a natural health store in Streatham, South London.
We look at health from a holistic perspective, with an experienced team on hand to guide you through their areas of expertise and everything you need to take control of your health and wellbeing.
We believe that shopping for one's health should be a beautiful and serene experience, which is why we have aspired to create a beautiful store with the highest level of customer service. Since we only employ medical herbalists or trainees on our shop floor, it means that anyone can freely enter our store and receive credible and scientifically sound advice about how herbal medicine, in the form of tea, tincture, powders or capsules, can support their health and wellbeing.
RC: Have you always been interested in health and wellbeing or was it a product of an experience in your life?
ZM: From a young age, I had an interest in health and well-being but I developed a much deeper and more passionate interest following a particular life experience. After completing my LLB and Diploma in Legal Practice, my very first graduate job involved assisting with finalisation of statutory instruments, which were due to bring in to force an Act of Parliament within the next few months. Despite having completed 5 years of legal training, to be given such responsibility felt daunting and overwhelming. It was at this point that I knew I needed to find a solution to manage the stress of being in a new job with such a huge amount of responsibility. A quick google search led me to find a local Yoga class. After attending the very first class, for the first time I think ever in my life, I experienced what it meant to abide in the present moment, without dwelling on the past or worrying about the future. Since then I never looked back. I became an avid yoga practitioner which over time, led to a deep transformation of my body, mind, consciousness and my way of life and set me on the path of my natural health journey.
RC: What is your wind-down routine?
ZM: I try to aim for an early dinner followed by some quality time with loved ones to discuss the day. If it has been a particularly hectic day, I like to unwind with a candle lit bath filled with herbal bath salts and essential oils. About half an hour before bed I sit to meditate before retiring around 10pm..
RC: The world's changed in the last 7 months, what positives have you managed to take from it?
ZM: I have a newfound sense of deep gratitude for my own health and that of my friends, family and work colleagues. I also feel particularly optimistic about the fact that more and more people are feeling empowered to find ways in which they can improve their own health and wellbeing.
RC: What would you recommend as an introduction to Zen Maitri?
ZM: Definitely a taster check-in consultation. It lasts for 15 minutes, is free, and will help us to guide you towards the products or services which are best suited to your individual needs.
Check them out at Zen Maitri, 39 Turnham Green Terrace, Chiswick, London W4 1RG, @zenmaitri
---