Dairy and Gluten Free, Organic Chicken Pie
by Olivia Cartwright,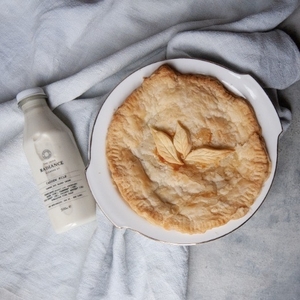 In winter you want comfort food and nothing says comfort food like an Organic Chicken, Mushroom, and Leek pie! This delicious recipe is gluten-free, dairy-free so it's great for those with intolerances. We don't eat much meat, but when we do we opt for a lean protein like chicken, and always make sure we buy organic. Recipes like this show you can still enjoy a delicious pie occasionally even if you follow a free from diet!
Ingredients:
1 onion diced
2/3 carrots sliced
3/4 steams of celery sliced
1 leek sliced
1 tbsp olive oil
1 bunch of tarragon, chopped
3 cloves of garlic, diced
250 g baby chestnut mushrooms, halved
8 organic chicken breasts, diced
50g gluten-free flour (we use Doves Farm)
250 ml chicken stock
150 ml cashew milk or alternative nut milk
1 pack DF and GF pastry (we use Doves Farm GF and DF shortcrust)
1 beaten egg to glaze
Directions:
Preheat the oven to 180C.

Brown the chicken off in a pan and add the dijon mustard and salt and pepper after the chicken has some colour

In a large pot, fry the onions, carrots and celery

Add the leeks, mushrooms, garlic, tarragon and the browned off chicken to the large pot

Add 50g flour and stir well to combine.

Add 250ml chicken stock and 150ml dairy-free cream alternative (we used our cashew milk) and cook out until thicken

Pour the mixture into a pie dish.

Roll out the pastry and place on top of the pie. Cut to fit with scissors - remember the pastry will shrink as it cooks so be generous. Cut a cross or design in the middle and brush with the beaten egg.

Bake in the oven for 30-40 minutes, until the pastry is golden.
---