Buckwheat Galettes
by Olivia Cartwright,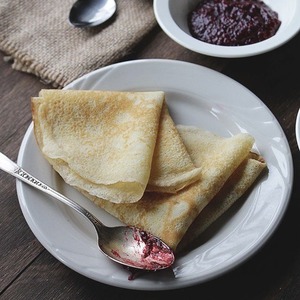 The traditional Buckwheat Galette is naturally gluten free from the buckwheat and dairy free as it uses water instead of milk. They can be made sweet or savoury depending on what you prefer. I like to have a few variations in one meal, it is pancake day after all.
Ingredients
300 g Buckwheat Flour
750 ml Water
1 Egg Pinch of Salt

1. In a blender, add the buckwheat flour, water, egg, and salt. Blend for 30 seconds or until smooth. If you don't have a blender, use a large mixing bowl. Add buckwheat flour, egg, and salt, and beat in the water gradually until a smooth batter forms with no lumps.
2. Cover the batter and let it rest in the refrigerator for at least 2 hours or overnight.
3. After your batter has rested check the consistency and thin it out until it has the consistency of melted ice cream. I usually add up to 1/3 cup water
4. Heat a lightly oiled crepe pan over medium/high heat. We use coconut oil (or butter) on it.
5. Make a first crepe to test your batter consistency. Pour or ladle batter onto the pan, then tip and rotate the pan to spread the batter as thinly as possible. Keep in mind that an authentic buckwheat crepe is thicker than a regular crepe, and it doesn't spread as well. If it's difficult to spread, add a bit more water to the batter – up to 1/3 cup.
6. Brown on both sides for about 1-2 minutes on each, store on a plate, and repeat until no more batter is left.
Ideas for toppings:
- Lemon & coconut sugar
- Chia jam & almond butter
- Avocado, tomato & parsley
- Garlic mushrooms
---