Sacral Chakra Salad
by Olivia Cartwright,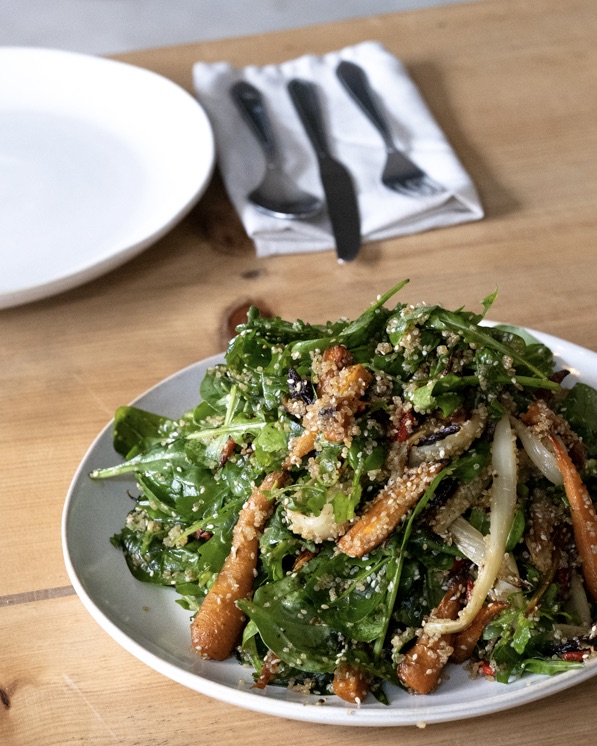 During my stay at Cabilla I fell in love with The Mindful Chefette's chakra focussed cooking. Her focus on intentional nutrition and eating with each chakra in mind is a game changer.
Sacral, solar plexus & heart balancing salad
Incorporating the colours orange, yellow and green with the intention of connecting to the chakras of creativity, courage and self love.
For aprox 2 people as a main or 4 as a side.
Chantenay carrot, spinach and fennel hot salad with a sesame and honey glaze, topped with smoky soy seeds and cashew cream.
Ingredients:
Olive oil
500g Chantenay carrots, halved or quartered depending on size
1/2 tsp Fennel seeds
1/2 tsp Cumin seeds
1 tsp Coriander powder
Big grind of Sea salt
1 fennel bulb
1 garlic clove
1 tbsp sesame seeds
2 tbs honey/maple syrup
100g baby spinach
Method:
Heat oven to 200°c. Line a baking tray and place into oven with abig glug of oil to line the based of the tray for 5 mins.
Wash carrots and dry them ( to prevent oil spitting), cut carrots in half or quarters. Add them to the pan, sprinkle over the spices and salt, toss to coat each carrot in the oil and spices.
Place into oven to start the cooking process while you prepare the fennel. Slice it lengthways as finely as possible, first removing the excess stalks. Add this to the pan of carrots, tossing to coat in the oil and spices, adding a little more oil if required.
Cook for about 30-40minutes, tossing a couple of times to make sure the vegetables cook evenly (the outside edges will cook quicker than the inside). Removed from the oven when the carrots are soft and have dark caramelizing on the edges and the Fennel is also looking sticky and caramelized (but not burnt!). This is where the flavour comes from!
Grate the garlic and toss through the vegetables, drizzle the honey (or maple for vegan) and sprinkle the sesame seeds.
Place back in the oven for 5 minutes to lightly brown the sesame seeds.
Remove from oven and place the spinach over the top of the vegetables to allow it to whilt with the heat of the pan. Toss to mix the spinach into the vegetables. Serve with a dollop of cashew
cream and smoked paprika seeds for the ultimate plant based hearty hot salad.
Sola plexus Cashew cream (yellow)
Ingredients:
1 cup raw Cashew pieces
1 garlic clove
1/2 cup nutritional yeast
1/2 lemon, zest
1 tsp mustard
1/4 turmeric powder
Pinch cracked black pepper
1/2 tsp salt
1/2 cup water
Method:
Soak cashews in boiling water for 5 minutes. Drain. Place into blender with garlic, nutritional yeast, lemon, zest, mustard, turmeric, salt, cracked black pepper, water. Blend to a puree adding more water if needed. Taste, add more salt if required. Last for a week in the fridge to add to soups, salads, meats and veg.
Sacral Smokey soy seeds (orange)
Ingredients:
Olive oil
1 cup omega seed mix
1 tsp Smoked paprika
1 tbsp soy/tamari
1 tbsp honey/maple syrup
Method:
Gently heat a glug of Olive oil in a large frying pan. Add omega seed mix. Gently toast the seeds, stirring regularly. After about 3 minutes, as the aroma starts to release and the seeds start to get a caramel colour, add the smoked paprika, stir through the seeds.
Cook for another 1 minute. Turn heat off and add the honey/maple and the tamari/soy sauce, stirring and letting the liquid simmer off to leave the seeds dry but sticky.
Leave to cool. It might stick to together, just break it apart and sprinkle on top of the salad. Keeps for weeks in an airtight container in a cupboard, add to soups, salads, meats and veg.
---