Burns Night goes veggie
by Clare Ward,
As Christina and I grew up in Edinburgh (she a real Scot and me having been there from the age of 10) I thought it would be a good idea to share a veggie haggis recipe to celebate Burns Night. This recipe is from Henderson's - something of an institution in Edinburgh's vegetarian restaurant scene.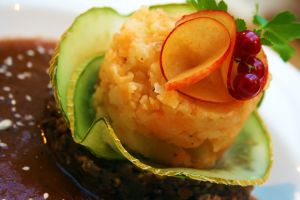 Ingredients
75g (3oz) mushrooms, finely chopped
75g (3oz) brown lentils (soaked for 2-3 hours)
50g (2oz) pinhead oatmeal (soaked for 1 hour)
50g (2oz) red kidney beans (soaked, cooked and chopped)
25g (1oz) margarine
150g (5oz) grated carrot
2 cloves garlic, finely chopped
150g (5oz) onions, finely chopped
1 tbsp vegetable oil
1 tbsp tamari or soy sauce
1 tsp garam masala
Freshly ground sea salt and black pepper
Method
1. Saute the garlic and onion in a little vegetable oil until soft, adding the garam masala, tamari or soy sauce and a little salt and pepper.
2. Add the brown lentils and carrot, and simmer on a low heat until the lentils are soft, stirring to prevent the mixture sticking. If the mixture starts to dry out too much, add a small amount of vegetable stock or water.
3. Add mushrooms and allow to soften, then add the kidney beans. Stir in the margarine and add black pepper to taste.
4. Add the rinsed and drained oatmeal to the mixture and mix well. The oatmeal should retain its texture to give body to the haggis.
Serves 4. Traditionally served with tatties and bashed neeps - mashed potato and turnips for those not familiar with the term! We like it with some greens too. To see the original recipe please click here.
For those of you who'd like to give veggie haggis a whirl but don't fancy making it simply pop to Waitrose and try out Macsween's. It's our favourite and they've been making excellent veggie haggis for years.
Happy Burns Night all!
---