Radiance Recipe: Hearty Lentil Soup
by Clare Ward,
As the weather gets colder we naturally reach for more hearty dishes to help heat us from the inside. Nothing does this quite like a great homemade soup. We asked our Executive Nutritional Therapist, Midi Fairgrieve, for one of her favourites and below is a recipe that she created herself. It couldn't be simpler.
Warming Winter Soup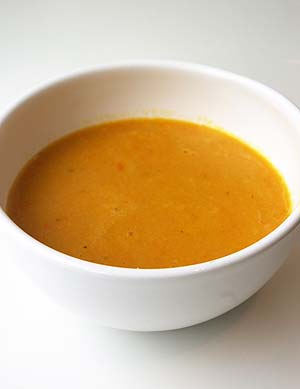 Ingredients:
1 tablespoon coconut oil
1 cup of brown lentils (soak these for 1-2 hours before using).
1 large onion
3 cloves garlic
2 large carrots
1 pint stock / water
6 prunes
1 tablespoon tomato puree
1 teaspoon turmeric
3 teaspoons apple cider vinegar
Salt and pepper to season
To make:
Soften the chopped onions and garlic in the coconut oil. When starting to brown, add the rest of the ingredients and bring to the boil. Turn down the heat and simmer for an hour. Blend and enjoy!
Midi Fairgrieve is Radiance's Executive Nutritional Therapist and Founder of Detox International.
---