Winter warmer with kale and quinoa
by Clare Ward,
I love to cook with root vegetables in the winter, there's something very grounding and comforting about eating them. The kale provides a green nutrient hit and the pomegranate gives a beautiful lift to the dish.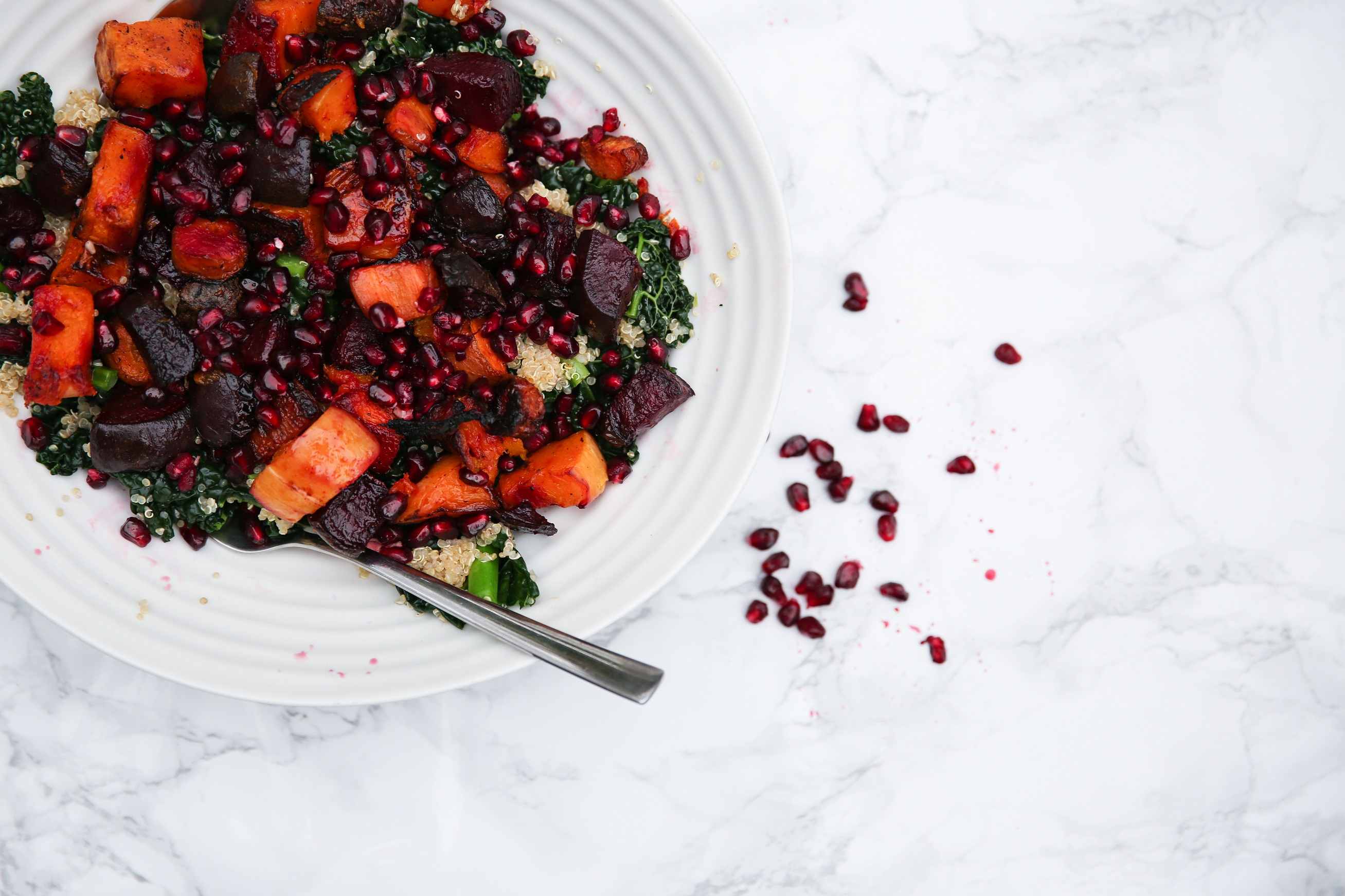 Ingredients:
100g quinoa (cooked according to the packet instructions, using either water or homemade stock/broth)
1/2 squash, peeled and deseeded, and chopped into 2cm chunks
4 heads beetroot, tops cut off, chopped into 2cm chunks
1/2 bag of kale (about 150-200g)
1/2 pomegranate
1 tbsp coconut oil
olive oil, salt pepper, lemon and tamari to dress
Method:
Turn your oven on to 180 degrees. Place a roasting tin with the coconut oil in the oven for a minute until the oil has melted.
Put the chopped beetroot and squash in the roasting tin and return to the oven. Cook for 30 minutes if you like your vegetables with a firm texture, for 45 minutes if you prefer them a bit softer.
Meanwhile boil a kettle for the quinoa (or get your stock ready if you're using this), then place the quinoa with the water (or stock) in a pan and bring to the boil. Once boiling reduce to a simmer until cooked.
Cut the pomegranate in half and break out the individual seeds. Put in a bowl to one side.
About 5 minutes before the quinoa is cooked added the kale to a steamer above this pan and let it steam at the same time. If you don't have an over pan steamer then simply place in a boiling pan and put a small amount of water in the bottom of the pan.
Place the cooked kale and quinoa in a bowl and toss together. Next place the squash and beetroot on top of this and top with the pomegranate seeds.
Dress the dish to taste with salt, pepper, a glug of olive oil, a little tamari (or liquid aminos) and a squeeze of lemon juice.
If you want an additional protein hit you could add some walnuts or feta.
This is a delicious dish for dinner, but is also perfect cold the next day as your packed lunch.
---