Digestion Support Package
by George Radiance,
At Radiance, we offer three types of tailored Support Packages to clients who may need extra care. We have carefully put together our Immune, Skin and Digestion packs to specifically support our cleanses, so our clients get the very best results.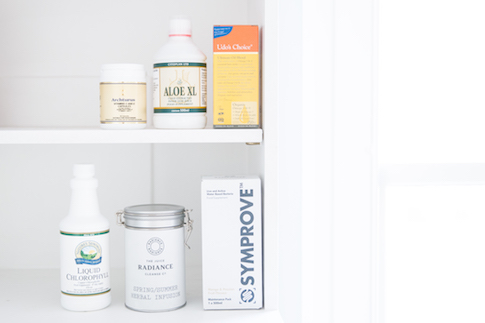 Read on to learn more about our popular Digestion Support package, avaialable with all 3 and 5 day programmes. A full guide is supplied with the cleanse which explains how, when and why to take the supplements.
Good bowel health – by which we mean the health of the large intestine or colon – is vital to your general wellbeing. The bacterial population in your bowel determines, to quite a large degree, what substances you absorb into your bloodstream. We all know that 'you are what you eat', which is a good starting point, but in addition 'you are what you absorb'. If your digestion is not functioning optimally then nutrients are not being absorbed optimally, which may lead to a wide variety of symptoms and if not addressed can develop into more serious, chronic conditions.
Our Digestion Support programme includes:
1. Symprove (500ml), a breakthrough non-dairy, gluten free lactic acid bacteria (LAB) barley drink. Its 4 species of naturally occurring bacteria are grown on extract of germinated barley (the substrate). This is a unique food source and also a prebiotic, providing optimum conditions for the Symprove bacteria to flourish and grow. The 4 species of bacteria in Symprove are L. rhamnosus, L. plantarum, L. acidophilus and E. faecium whose benefits are documented in research worldwide. Symprove is totally different to other probiotics. This is due to its Unique Delivery System (UDS™) which protects the bacteria from volatile pH conditions in the digestive tract. This ensures the Symprove bacteria are delivered quickly to targeted areas within the gut without triggering digestion.
2. Aloe vera (500ml), a gel obtained from the cactus-like aloe plant, which is native to Africa. Experiments have shown that after using aloe the bacterial population of the bowel is improved, and production of digestive enzymes also increases. This is a wonderfully pure and active aloe product with minimal preservatives. It is yeast free and suitable for vegetarians, vegans and for people with candida and yeast sensitivities.
To find out more about our support packages, do get in touch with the Radiance team who will be happy to have a consultation with you.
---