Homemade Ice lollies
by Olivia Cartwright,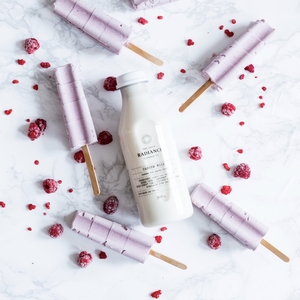 There are 2 ways you can go about making these delicious ice cashew milk ice lollies. You can simply blend your Radiance Cashew Milk with raspberries, pour into a mould and freeze or follow the below recipe:
Ingredients:
120g cashews
600ml water
2 dates
1g Himalayan salt
1tsp natural vanilla essence
4tbsp raspberries (fresh or frozen)
How to:
Place the cashews and dates in a bowl, cover with water and leave to soak for a minimum of 4 hours (or overnight) to soften. Drain, add 600ml of fresh water and the salt and blend until smooth.
Strain/sieve to remove pulp and blend with all the other ingredients. Allow to sit for 5-10 minutes, mix, and then pour into moulds to freeze.
Freeze the mixture for a minimum of four hours, preferably overnight.
---