Radiance Recommends - Facial Acupuncture
by Olivia Cartwright,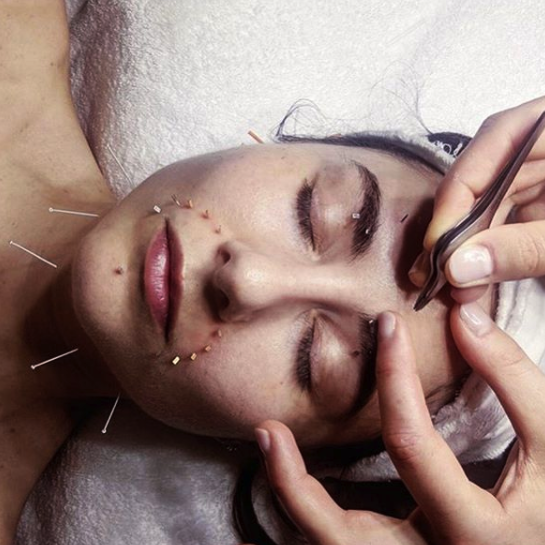 Skin is such a personal thing, when your skin is great, you feel great. Your skin can be such a representation of your physical health, your diet, and even your emotional state. Some time ago, I noticed a lack of continuity in my lifestyle particularly when it came to my skincare. I am so careful and particular with what I eat and drink but that level of care and consideration never seemed to stretch to what products I used. I was happy to put a cocktail of toxic chemicals on my face with no regard to where it came from or what it did. Seduced by the glossy packaging and the Space NK sales assistant I spent a fortune on products that did nothing for me or for the planet. I decided to overhaul that and I have finally found products and brands that match my ethics, lifestyle, and health choices. That brings me to my latest find, facialist (and part-time counselor during your session) Saintly Skin! Regular facials are such a luxury but it's astounding to see what a difference consistency makes to the look, feel, and texture of your skin.
From the moment you walk in Frederica of Saintly Skin makes you feel entirely at home and begins to works her magic with all her advanced tools and gadgets she has on hand. That's what I particularly loved about her, technology meets science meets nature meets ancient wisdom. She has both a holistic yet effective approach to skincare and its maintenance and with both of those values combined, you've got a winning combo.
We got started with a brief consultation about my lifestyle and what products are already in my routine. She didn't shove some expensive 12 step routine in my face. In fact, she said that less is more and directed me towards an incredibly reasonable product that would replace my previous serum and moisturiser in one! Refreshingly as Freddie doesn't stock any products herself she has a wholly unbiased and unsalesy approach, making honest and effective recommendations to suit your personal skin.
The treatment itself was incredible from start to finish, with some thorough extractions (much needed), LED light therapy, an incredible alginate mask which was definitely a highlight, finished off with some acupuncture.
Freddie is an incredible acupuncture specialist which I was hesitant about at first as I'd had a weird experience last time but it was truly amazing. It didn't hurt, I felt totally safe the whole time and I still feel so much better for it. Cosmetic acupuncture has really been hailed as natures answer to botox and for good reason. A quick google search of before and afters will really speak for themselves, it's amazing how it can lift, tighten and smooth, whilst simultaneously treating any stress or other ailments in the body. I even had some needles administered in my ankles to help with my periods and hormones. It's a total body, mind, spirit approach and the anti-aging effects are just a bonus.
I really can't recommend Freddie from Saintly Skin highly enough, it's a testament to her and her knowledge that I booked for 6 weeks' time whilst on my commute home. She can use me as a human pin cushion any time! Head on over to her website to read more and to book in.
---