What the Experts Eat: Nutritional Therapist Yasmina Bona
by Christina Agnew,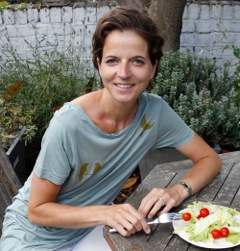 How would you describe your food philosophy?
I see myself as a foodie with a conscience: I love food and I aim to eat food that is good for me and that is produced in a both health-conscious and environmentally sound manner. My 'gourmet outlook on nutrition' means that I am happiest when I eat food that is flavourful, varied and wholesome using exceptional quality ingredients.
Why did you decide to train as a nutritional therapist?
I have always had an interest in health and nutrition (in hindsight, I should have trained as a naturopathic medical doctor). It is when I started living on my own that I noticed that my eating habits and food preferences were radically different to what I had grown up eating: more focus on vegetables and less on meat. A break from my previous career gave me the opportunity to pursue my genuine and longstanding interest in nutrition
Which daily practice keeps you feeling healthy and happy?
Healthy: my morning superfood smoothie. Happy: yoga, if only it were daily!
What is your fail-safe healthy meal for kids?
My kids love homemade organic chicken fajitas and it enables me to get a lot of vegetables in them, such as grilled yellow peppers, cherry tomatoes, avocado slices and lettuce, whilst having fun and experimenting with different variations.
Do you have any must-pack items to stay on track while travelling?
Definitely, a large bottle of water. Then, fresh apple slices, carrot sticks, and cherry tomatoes: all snack-friendly and fresh foods that compensate for the carbohydrate-rich and processed fare we get on the road or in the air.
What is your guilty indulgence?
Without a moment's hesitation, 70% or 80% dark chocolate.
What is your favourite juice combination?
I love to mix apple, orange and lime, with a hint of ginger.
What single dietary change makes the biggest difference to your clients' health?
Increasingly, I find that taking away gluten or dairy from some of my clients' diets has made a big difference to their wellbeing.
Supplements - yes or no? What should we be taking?
Yes! I choose a "superfood" nutritional supplement that includes naturally occurring, whole food source vitamins and minerals. My current brand of choice is Vital Greens Powder.
Which 3 items are always in your fridge?
Cherry tomatoes, hummus, and coconut water.
What's your favourite pre and post workout snack?
Right before heading out for a run, I usually have a banana. When I return, I rehydrate and refuel with a tall glass of coconut water.
---