Christmas truffle recipe
by Olivia Cartwright,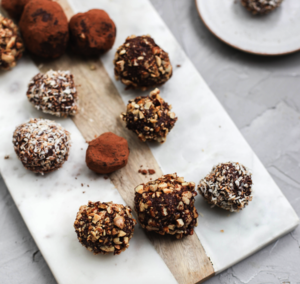 Christmas is a time of indulgence, filled with food, fun and of course lots of chocolate. We love to make our own treats so we know exactly what's gone into them without compromising on taste. This is a great, simple recipe for the whole family to enjoy. They also make great treats.
240 ml light coconut milk
300 g dairy-free dark chocolate
3 tablespoons coconut oil
1 teaspoon vanilla bean paste, or vanilla extract
1 handful of desiccated coconut
1 handful of mixed nuts , such as pecans, hazelnuts, macadamias
2 tablespoons quality cocoa powder
Pour the coconut milk into a small pan over a low heat and heat through.
Snap the chocolate into a bowl, add the coconut oil, then pour over the coconut milk and stir gently to combine – it's important not to mix too quickly.
Stir in the vanilla, then cover the bowl with clingfilm and place in the fridge to set for at least 4 hours.
When the truffle mixture is almost set, toast the desiccated coconut in a dry frying pan over a medium heat for 1 to 2 minutes, or until lightly golden, then tip onto a plate.
Return the pan to the heat, scatter in the nuts and toast for 2 minutes, or until golden. Leave to cool for a few minutes, then finely chop and place onto a second plate.
Spread the cocoa powder over a third plate.
Using a teaspoon, scoop out little balls of the truffle mixture and roll in the palm of your hands, placing them onto a tray
It's totally up to you how you decorate them – roll the balls in the toasted coconut or chopped nuts, or for a simple finish, roll them in cocoa powder. Return the decorated truffles to the fridge for around 10 minutes to firm up, then serve.
---