Hot Cross Buns for Easter
by Christina Agnew,
At Radiance, we've been trying out this delicious recipe for healthier Hot Cross Buns from Women's Health.
These buns are a lighter, more nutritious take on the traditional Easter treat. Spelt flour and oats give added fibre, while agave and apple keep the buns sweet and moist. Healthier they may be, but don't be fooled - these spiced buns are just as delicious as their buttery cousins and make the perfect spring breakfast.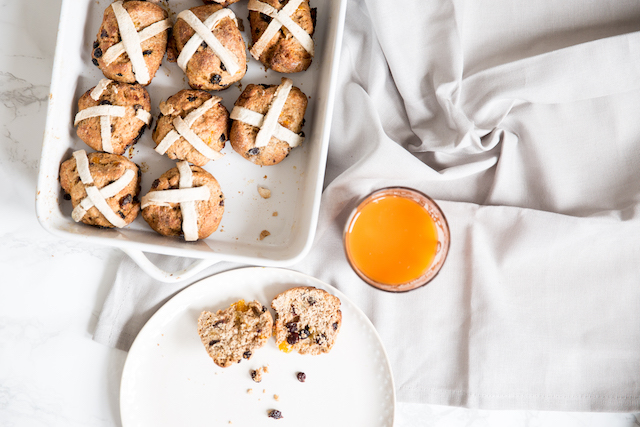 INGREDIENTS
500ml dairy-free milk
4 cardamom pods, lightly crushed
4 cloves
zest of 1 lemon
zest of 2 oranges
300g spelt flour
300g strong white bread flour, plus about 100g extra for kneading and the crosses
1 tsp salt
100g oats
1 x 7g sachet fast action yeast
50ml sunflower oil
3 tbsp agave nectar
1 large egg, beaten
1 apple, coarsely grated
2 tsp cinnamon
60g currants
2 tbsp apricot or fig jam, ideally a no added sugar brand
METHOD
1/ Bring the milk to boil with the cardamom pods, cloves, lemon zest and zest of 1 orange. Set to one side and allow to cool to room temperature. Meanwhile, sift the flours and salt into a large mixing bowl. Tip in the oats, yeast, oil, agave and beaten egg. Once the milk has cooled, remove the cloves and cardamom and pour into the bowl.
2/ Mix together until the ingredients are well incorporated. Then tip the dough onto a generously floured work surface and knead for a good 10 minutes, either by hand or using the dough attachment of a table top mixer. It will seem like a very wet dough, but keep working it, slapping it onto the work surface to develop the gluten. It will eventually come together to form a sticky, but elastic dough. Place in a lightly oiled bowl and cover with a tea towel. Leave to prove in warmish place for about 1 hour, until risen.
3/ Tip the dough out onto a floured work surface and flatten slightly. Mix together the apple, cinnamon, currants and remaining orange zest and sprinkle over the dough. Knead briefly to distribute all the ingredients. Divide the dough into 16 even pieces and roll into smooth balls. Ar
range the buns on 2 lightly oiled baking sheets in rows of 4, about 1 cm apart. Cover with a tea towel and leave to rise for a further hour.
4/ Heat the oven to 220C/fan 200/gas mark 7. In a small bowl mix together 30g of flour with 2 ½ - 3 tbsp water, adding the water gradually until you have a thick paste. Scrape into a small sandwich bag. Once the buns have risen and puffed up, cut off the tip of one corner of the sandwich bag and use to pipe crosses over the buns. Place in the oven and bake for 15 minutes, swapping shelves halfway through. Meanwhile, heat the jam with 2 tbsp of water in a small pan until the jam has melted and is syrupy. Sieve into a small bowl and use to brush over the buns as soon as they come out of the oven. Transfer the buns to a wire rack and allow to cool before tucking in.
Read more: http://www.womenshealthmag.co.uk/nutrition/recipes/1126/healthier-hot-cross-buns#ixzz4bVG1OsL3
---