How do you like your Muffins in the morning?
by Olivia Cartwright,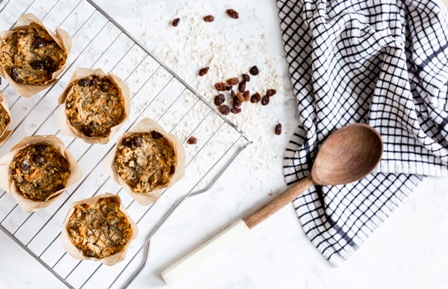 Here's our round up of our 3 favourite Breakfast muffin recipe's for the perfect nutritious breakfast on the go!
Deliciously Ella's Carrot Cake Breakfast Muffins
300 g grated carrots
100 g grated apples
60 g rolled oats
100 g buckwheat flour
100 g raisins 1 tbsp chia seeds
1 tbsp ground cinnamon
1 1/2 tbsp coconut oil
4 tbsp apple purée (cook 1 large apple with 50ml of water, until soft)
3 tbsp maple syrup
2 tbsp honey
250 ml almond milk
Method
1 Preheat the oven to 160°C/gas mark 3. Place the grated carrots and apples and all the dry ingredients together in a large bowl.
2 Melt the coconut oil in a small saucepan and add it to the bowl with all the other ingredients. Mix everything together well. Scoop the mixture into 12 muffin cases and place in a 12-hole muffin tray. 3 Bake for 35 minutes, until the tops turn a golden brown.
3 Take them out of the oven and let them sit for 10 minutes to cool slightly in the tray and finish setting. Remove them from the tray and leave on a cooling rack for another 20 minutes.
4 Once completely cool, store in an airtight container at room temperature; they should last for about five days.
Hemsley and Hemsley Blueberry muffins
Makes 6 muffins:
3 eggs
2 tablespoons Butter or coconut oil, melted
2 tablespoons maple syrup
½ teaspoon vanilla extract
1 tablespoon apple Cider vinegar or lemon juice
A pinch of sea salt
40g coconut flour
¼ teaspoon bicarbonate of soda
150–200g blueberries,rinsed and dried thoroughly
Method
1 Preheat the oven to fan 200°C/gas mark 7 and line a six hole muffin tin with baking parchment liners or squares of baking parchment.
2 Add all the ingredients except the blueberries to a food processor and blend until smooth. Alternatively, beat the eggs in a large bowl, then stir in the melted butter or coconut oil with the maple syrup, vanilla extract, ACV or lemon juice and salt. Sift the coconut flour and bicarbonate of soda into the batter and fold in well to ensure there are no lumps.
3 Once blended, divide the runny batter between the paper liners in the tin, then distribute the blueberries evenly between the liners, pushing most of the berries down into the batter and leaving a few studding the top of each muffin for decoration.
4 Bake in the centre of the oven for 20 minutes until lightly golden at the edges, then remove from the oven and transfer to a wire rack to cool completely before serving.
Madeleine Shaw's Strawberry and Almond Paleo Muffins
300g of ground almonds
1 Pinch of sea salt
½ tsp baking soda
300ml of full fat coconut milk (from a can)
2 organic eggs
4 tbsp honey
1 vanilla pod scraped (or 1 tsp of vanilla extract)
100g of fresh strawberries halved
Method
1 Preheat oven to 180° C
2 Mix the almonds, salt and baking soda together in a bowl.
3 In another bowl, mix all the coconut milk, eggs, honey and vanilla.
4 Combine together and fold in the berries.
5 Pour the mixture into muffin paper holders, but only fill them 2/3 full as they will rise.
6 Bake for 20 minutes, you want them to be golden on top.
---