COURGETTE PASTA RECIPE
by Olivia Cartwright,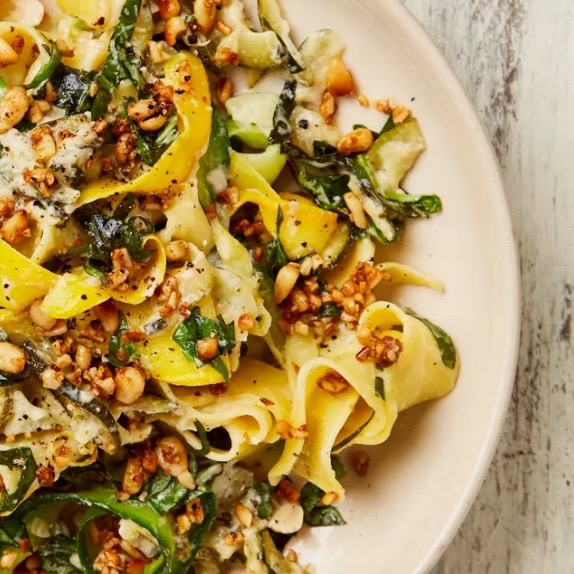 Serves 4
For the sauce
3 tbsp olive oil
2 garlic cloves, finely sliced
3 tbsp oregano leaves
3 large green courgettes, cut lengthways into quarters, then finely sliced
Salt and black pepper
150g dairy-free feta, broken up into rough chunks (we like Violife)
100ml vegetable stock
For the pasta and courgette ribbons
80g pine nuts, roughly crushed
2 courgettes (ideally 1 yellow and 1 green)
300g gluten-free tagliatelle
Finely shaved zest of 1 lemon, plus 1 tbsp lemon juice
25g basil leaves, roughly shredded
Start with the sauce.
Heat the oil in a large saute pan on a medium-high heat, then fry the garlic and oregano for one to two minutes, until the garlic just to starts to brown.
Add the sliced courgettes, three-quarters of a teaspoon of salt and plenty of black pepper, and fry for five minutes, stirring frequently. Add the feta and stock, bring to a boil, then turn the heat to medium-low and leave to cook for 25 minutes, until the courgettes are soft, the feta has melted and the sauce is creamy. Turn off the heat and cover the pan.
Dry fry the pine nuts and set aside.
Peel the yellow and green courgettes into long, thin strips (ideally, using a mandoline or potato peeler): you need 300g, so save any excess ribbons and add them to your next salad. Bring a large saucepan of salted water to a boil, then cook the tagliatelle until al dente, stirring the courgette ribbons into the pasta water only a few seconds before the pasta is done. Drain, then return the pasta and courgette ribbons to the pan and stir in the sauce, lemon zest and juice, basil and a generous grind of black pepper.
Divide between four shallow bowls, spoon over the reserved pine nuts and serve hot
---