The Natural Beauty Cleanse
by Olivia Cartwright,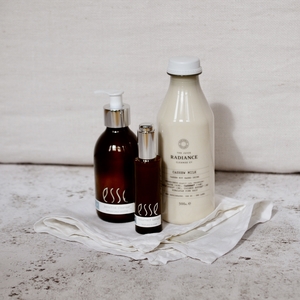 Introducing our Natural Beauty Cleanse....
We're absolutely thrilled to introduce to you an industry first - a unique programme combining organic juicing with organic and probiotic skincare. We have always been passionate about natural health and beauty, and the synergy between what we put onto, and into our body. When someone is healthy and cares for themselves internally it really shows externally, you just can't fake the glow of health. We are meticulous about the offerings we produce and will only introduce something new that feels truly aligned with us. We first launched our bestselling Beauty Boost Cleanse in 2012, and 11 years later we're really proud to be bringing that up to date with the latest in probiotic skin technology and knowledge about the skin microbiome.
The Natural Beauty Cleanse is available in a 3 and 5 Day programme duration and includes a curated selection of skin targeting Radiance juices, as well as specially chosen probiotic skincare products from Esse (worth £150). This programme includes a bespoke skin consultation with Esse, as well as additional support from both brands on supporting your microbiome inside and out. Find out more here.
Why Esse?
Our clients love Radiance for our product quality, ethical and environmental considerations and crucially our ability to deliver fantastic results for our clients. In choosing a skincare partner it was essential for us to have alignment in all these areas. Having watched the development of Esse skincare closely, and having recommended it to our clients for years - we're absolutely thrilled to have Esse as our partner of choice for the Natural Beauty Cleanse.
The skincare market is so saturated and fast-moving, and we didn't want to present a beautifully packaged but ineffective product to the table. Esse is unlike any other beauty brand we have found - and it's longevity is key. It combines relentless scientific research with organic, vegan and live probiotic ingredients to topically rebuild your skin's natural biome and restore your skin back to full health.
The Esse award winning product offering is the perfect antidote to the aggressive and stripping products we all seem to be directed towards today. Acids, BHA's, AHA's, retinols, enzyme peels, microneedling, lazers, and gadgets. The beauty industry has exploded recently and whilst these treatments and products are helpful in moderation, brands have us believing that a 10-step morning and evening routine is necessary. This cocktail of chemicals when used in excess is making lasting damage to our skin's natural microbiome, impairing our skin barrier and stripping our faces. Did you know the natural way to keep skin looking younger is by having a healthy microbiome?
A comprehensive approach to care for your skin. Feeding your body and flooding your system with skin targeted goodness, allowing your body a few days to relax, recover and heal combined with powerful topical skincare to rebuild, nourish and restore your skin.
"YOUR SKIN IS AN ECOSYSTEM. WE ARE SEEDING AND FEEDING THE SKIN WITH NUTRIENTS."
Join us for this fresh start for your face.
---