Our top 5 ways to enjoy nut mylk
by Holly Wood,
Plant-based milks, or 'mylks', once a little known secret - are fast becoming a billion dollar business across the world. With a host of nutritional benefits, and kinder to the environment too - choosing to integrate a plant-based milk into your lifestyle is a swap many of us are making.
At Radiance, we've been making our nut-based mylks for almost 10 years. Here's some of our favourite ideas for how to use them.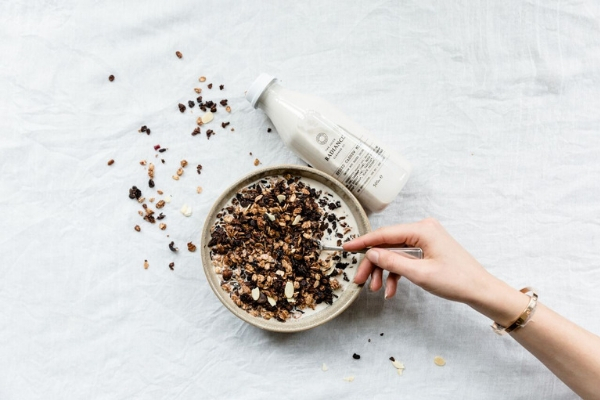 1. An 'on-the go' meal
Mylks with a high enough nut content, such Radiance's Cashew Mylks (14% cashew nuts), are perfect for those occasions when you're out and about with no time to stop and need an 'on-the-go' meal. The combination of protein and good fats will keep you energised, stop your blood-sugar levels dropping and avoid you feeling too full.
2. With your breakfast
It may seem obvious, but nut mylk is the perfect companion with breakfast. Try it with a homemade granola or your overnight oats for an indulgent alternative to your regular milk. If you choose a truly fresh and unpasteurised mylk, you'll get the added nutritional goodness from the nuts in their raw form.
3. As a hot drink
When heated slowly on a stove, mylks make delicious hot drinks to enjoy on a winter's evening. Depending on the flavour, you can even add some spices (try cinnamon!) to give it a little extra boost. Our Cacoa Cashew is a particular favourite for those looking for a delicious alternative to a hot cocoa.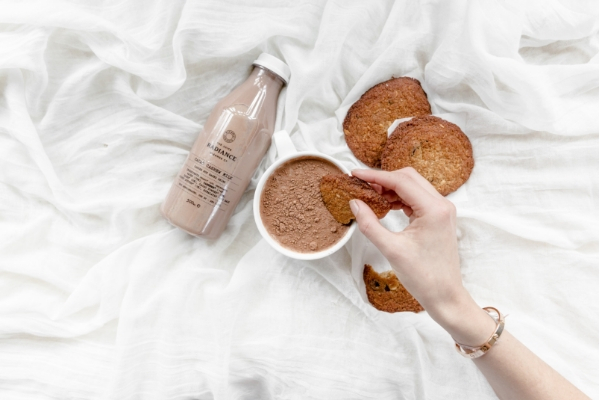 4. In your puddings
If, like us, you have a sweet tooth, then you'll love using mylks to create tasty desserts. If you're looking for a healthier recipe, try our Passionfruit Chia Pot. You can use any type of plant-based mylk for this recipe; almond, cashew, hazelnut or even oat milk.
5. For savoury dishes
And finally, though it may come as a bit of a surprise, you can even use nut mylk in more savoury dishes! For this one we wouldn't recommend using a Radiance mylk, due to the high nut content causing separation, but if you fancy trying your hand at Vegan Mac and Cheese we can highly recommend the Rebel Kitchen mylk. For this recipe, if you're Gluten Free, just swap the pasta for a GF alternative.
---